Giorgio Moroder teams up with Kylie and Britney for new album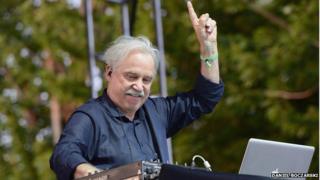 Disco legend Giorgio Moroder has announced his first solo album in 30 years.
Due for released in 2015, the album will feature collaborations with pop stars Britney Spears, Kylie Minogue, Charli XCX and Sia.
The 74-year-old producer and songwriter is most famous for his 1970s disco anthems with Donna Summer.
He has enjoyed a career renaissance after appearing on Daft Punk's album Random Access Memories last year.
The dance duo asked the Italian musician to narrate his life story on a bubbling disco track, called Giorgio by Moroder.
That led to remixes for Lady Gaga, Coldplay and Haim before Sony music signed him to record a new album.
Due for release in early 2015, it will be called 74 Is The New 24! - after the first single, which premiered on Monday.
"[Dance music] doesn't care if you are 74 or if you are 24," Moroder said.
"[It] doesn't care where you live. It doesn't care who your friends are. It doesn't care how much money you make," he added.
Starting in the late 1960s, Moroder was one of the first musicians to use synthesizers to create dance beats and melodies, spawning a genre that packed nightclubs.
Over the course of his career, he has worked with some of the most famous names in music including Barbra Streisand, Elton John, Donna Summer, Cher, Janet Jackson, Chaka Khan and David Bowie.
He stopped recording albums in the 1980s, after his 1985 record, Innovisions, failed to reach the UK or US top 100.