Olly Murs: 'Look who's winning now'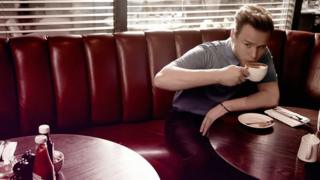 He's known as a perma-grinning, hat-bothering pop jester, but is it time to take Olly Murs seriously?
The former X Factor runner-up has sold more than 13 million records, including four number one singles and two number one albums.
What's more, he's been anointed by Sir Bob Geldof, who hand-picked him for the new Band Aid single and by Paul Weller, who wrote a song especially for him.
"It was very random," Murs says of the unlikely collaboration.
"I was at the Royal Albert Hall watching Paolo Nutini and we met backstage. I had a picture taken with Paul and he said: 'Are you doing your album right now? I'd love to send you a song.'
"Obviously, I didn't think he'd actually do it but the email came through the next day, and there was a song on it from him. It was amazing.
The song, Let Me In, is the closing track of Murs' fourth album, Never Been Better. With its acoustic strum and impassioned vocals, it's a marked contrast to the lightweight pop that precedes it.
But Murs insists he played a pivotal role in the song's creation.
"I heard the song and, to be honest with you, I wanted to put my stamp on it because, originally, it just sounded like Paul Weller - one of the songs from his albums.
"So I contacted him and said, 'look, can we work on it?' And we got a string quartet to come in and really went to town on the production.
"It was important for me to show Paul I'm a proper artist. I really wanted to put my stamp on the song and I think he really respected me for that."
The anecdote speaks volumes: For all his success, Murs still craves the respect of his peers.
It's something he addresses directly on his album's defiant title track.
"The world can't knock me down, I won't take defeat," he sings. "I'm still around. Look who's winning now."
At first, the singer is cagey about the song's lyrics.
"Is it a riposte? Potentially, yeah," he says.
But he eventually acknowledges the song is aimed at critics who branded his previous records "offensive", "bland" and "drably formulaic".
"Regardless of what the press might write about me, or what people tweet about me, I'm still here, doing what I love. So I must be doing something right," he protests.
He certainly is. Murs has sold 13 million records in five years and, in 2013, became the most-played artist on UK radio.
His songs are throwaway, but he has a knack for distilling everyday feelings into three minutes of frisky disco-funk.
While he may not possess the emotional depth of his mentor, Robbie Williams, both artists combine an end-of-pier likeability with cut-throat commercial nous.
Murs' even confesses his current single, Wrapped Up, isn't his favourite song on the album - but he knew it was destined to be a smash.
"It was a song I knew my fans would absolutely love," he says.
"I could have come back with something completely fresh and different to what I've done before, but I felt like that was even more of a risk.
"I never want a fan of mine to pick up an album and go 'this sounds a bit different - this doesn't sound like what he's done before.'
If there's a contradiction in his desire to be celebrated commercially and creatively, Murs doesn't see it.
"We all love good pop music, so why shy away from it?" he reasons. "I'm trying to make people have a good time."
Now 30 years old, Oliver Stanley Murs was born and bred in Essex.
The son of a toolmaker and an HR consultant, he was an average student who left school to play football semi-professionally for Witham Town.
When his sports career was ended by a knee injury, he took a job in a call centre - first selling kitchens and then mortgages, before becoming an energy adviser.
His life changed when he entered the X Factor in 2009, passing the auditions on his third attempt.
Murs told the judges he wanted to become "an international superstar" and, although he ended up in second place, he's come closer to achieving that dream than that year's where-is-he-now winner, Joe McElderry.
"I've done everything I could've dreamt of and more," he says.
Murs is relentlessly good-natured. He uses the words "amazing" and "great" as mere punctuation, and froths with enthusiasm about his new record - ("I can't wait" for "my amazing fans" to hear it, he says, over and over).
He even remains good-natured when questioned about his non-identical twin brother, Ben.
The siblings fell out in 2009, when X Factor commitments meant Olly missed his brother's wedding. Ben later sold his story to a newspaper, calling his brother "self-obsessed" and "a sell-out". They haven't spoken in years.
"He decided not to speak to my family or my parents ever again, and that's something he has to live with, not me," says Murs.
"At the end of the day, there's a mum involved in this who doesn't see one of her sons. That was his decision.
"I want to sort it out at some point but I felt it wasn't quite ready yet, you know? There's a lot more to it than people think."
The paper that ran the original story was The News Of The World. Was Murs was pleased to see it close in the wake of the phone-hacking scandal?
"Not at all," he insists. "If it wasn't that tabloid, it would have been another. It's part of my job."
The 30-year-old has largely stayed out of the Daily Mail's "sidebar of shame".
The one exception came in 2011, when he was caught on CCTV, lunging at a barman who'd been taunting him about X Factor.
"That was my own fault, really," he says. "I got a number one with Please Let Me Go and I went to Malia with the lads. We all got drunk and had a bit of a laugh and a giggle, and we got a bit out of hand at times.
" I learnt from my mistakes. I thought I was still one of the lads that wasn't a singer or a pop star.
"I have to be very careful now about where I go now on holidays. You want to get out of the target range. As much as you think you're one of the people, there's always going to be some idiot who wants to take a pop at you. So you have to be careful.
"But, trust me, I do get myself in a pickle sometimes."
For now, Murs is back in professional mode, with a full schedule right through to the end of his European tour next year.
He puts his success down to hard work and an obsessive attention to detail: "I've really studied these songs," he says, "I've listened to them 200, 300, 400 times.
"Some artists don't care," he adds. "They release good singles and the rest of the album is rubbish [but] I don't like to live in complacency.
"A really good album is one you can listen to hundreds of times and still love it."
Despite Murs' best intentions, you suspect critical plaudits are out of his reach - but his longevity and work ethic are worthy of respect.
Never Been Better is out now on Epic Records.