Bill Cosby presses on with one-man show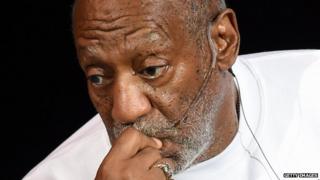 US entertainer Bill Cosby has pressed ahead with a one-man tour despite mounting allegations he sexually assaulted a number of women.
The 77-year-old played to a packed house at the Atlantis Resort in the Bahamas with an evening of anecdotes about his life and career.
He has not commented on a series of claims that have recently resurfaced.
On Friday, a venue in Las Vegas and one in Tucson, Arizona, announced they were cancelling Cosby's dates.
His 28 November performance at the Treasure Island in Las Vegas has been shelved by mutual agreement with the comedian.
Spokeswoman Michelle Kroll said "it wasn't a good time" for the gig.
No reason has been given for the cancellation of Tucson's Diamond Desert Casino date on 15 February,
Cosby is still due to appear at a string of 36 dates around the US.
On Thursday a fourth woman came forward with allegations Cosby had drugged and raped her backstage at a show in Las Vegas in 1976.
Therese Serignese, from Boca Raton in Florida, said the star made her take some pills that made her feel groggy and then sexually assaulted her.
The 57-year-old's allegations are similar to those of three other women, including former supermodel Janice Dickinson, who allege Cosby drugged them and then raped them over the past three decades.
Cosby has not responded to the latest claims, and made no mention of them during his show in the Bahamas, which was a benefit gig in aid of a local women's service organisation.
The star has never faced charges for any of the alleged crimes, and has continued to maintain his silence over the issue.
He talked about growing up in Philadelphia and previous visits to the islands during his routine.
Some members of the audience said they were glad the fundraiser was still well attended.
Khaalis Rolle, a Bahamian minister of state for investment, said: "You still have to account for the fact that they are just allegations. Nothing has been proven.''
Cosby is due to continue his tour in Melbourne, Florida, on Friday evening. A long series of engagements around the US stretching into May 2015 are also planned, which are considered a comeback for the star.
The comedian was asked about the allegations at the end of an interview with the Associated Press news agency on 6 November.
"No, no. We don't answer that," Cosby said. "There is no response."
The comedian, who was principally speaking about his loan of more than 50 artworks to the Smithsonian's National Museum of African Art, also asked the interviewer not to circulate his answer.
"If you want to consider yourself to be serious... it will not appear anywhere," he said. "We thought, because it was AP, that it would not be necessary to go over that question."
"And I would appreciate it if it was scuttled."
However, the agency made the decision to release the footage this week, saying the interview was "on the record" and that it had made "no agreement to avoid questions about the allegations".
While NBC has shelved plans to revive Cosby's television career, repeats of his 1980s sitcom The Cosby Show were pulled from cable station TV Land earlier this week, while Netflix decided not to broadcast a special about his work.