Green Cross Code Man back on screen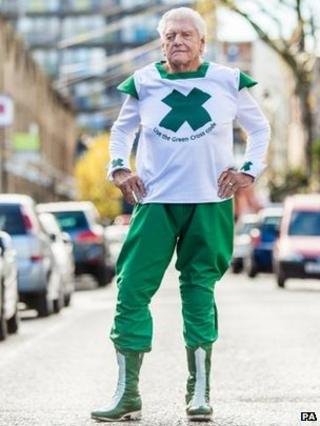 Darth Vader actor David Prowse is reviving his role as the Green Cross Code Man almost 40 years after he first declared: "Stop, look and listen".
Prowse, whose role as Darth Vader in Star Wars was famously dubbed by James Earl Jones, stars in two short films as part of Road Safety Week 2014.
Research found 39% of pedestrian road injuries are caused by adults not looking when crossing the road.
Prowse first played the Green Cross Code Man in 1975.
Dressed in a distinctive green and white superhero suit accompanied by a robot known as Droid, Prowse was the frontman for the British road safety campaign aimed at children.
The current campaign, launched on YouTube, is focused on adults.
A poll by insurance company More Than showed 30% of pedestrians will regularly cross the road while using the internet and social media on their phones, 40% while texting, 60% while on a call and 40% while listening to music.
"When the original Green Cross Code Man public information films ran, road accident rates reduced significantly," said Prowse, now 79.
"But that was in the days before pedestrians wandered around glued to their smartphones or wearing giant headphones - now it appears adults are completely out of practice with road safety."
Prowse played Darth Vader in the first three Star Wars films, but his face was never seen nor his voice heard.
He was a regular on the Star Wars circuit for many years, but was reportedly banned from attending official conventions by director George Lucas in 2010.
He said he was told he had "burnt too many bridges between Lucasfilm and myself".