Tina Fey's first comedy since 30 Rock moves to Netflix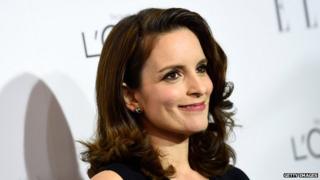 Netflix has won the rights to comedian Tina Fey's first new show since the award-winning 30 Rock.
Unbreakable Kimmy Schmidt, set to premiere in March 2015, was due to be shown on the NBC network in the US.
The move to the on-demand service follows the success of high-profile dramas including The Killing, Orange Is The New Black and House of Cards.
NBC called the switch a "win-win for everyone", and said Fey was in talks for a separate series on the network.
The new comedy, about a woman who starts her life over after escaping from a doomsday cult, stars Ellie Kemper in the lead role as Kimmy.
Fey, who created and starred in the Emmy award-winning comedy 30 Rock, has cast her ex-colleagues Jane Krakowski, Titus Burgess and Carol Kane in the show.
NBC, which launched the hit TV series Friends in 1994, suggested the sitcom may have been an uncomfortable fit for amidst its "drama-heavy" mid-season schedule.
Some critics have said the network was hoping to make "inroads with the genre" this season after "struggling in comedy" in recent years.
Netflix, which reported profits of $71m (£43.8m) in July, received a record 31 nominations for its programmes at the Emmy TV awards.
The streaming video firm has sought to upend the television industry by commissioning original content and taking on brands like HBO.
Longmire, a crime drama based on the best-selling novels by Craig Johnson, was recently picked up for a fourth season after it was cancelled by TV network A&E.
The move mimicked Netflix's biggest competitor, Amazon Prime, which rescued Ripper Street after it was cancelled by the BBC.