Top 10 tips for being a weather presenter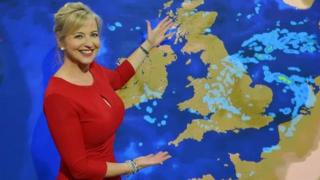 Carol Kirkwood is a weather presenter on BBC Breakfast.
She's been doing the job for almost 20 years.
She was named Best TV Weather Presenter 2014 and has won the award six times.
Here are her Top 10 Tips for being a weather presenter.
1.Everything happens for a reason
It was a pure accident, me getting into weather. I was a business woman beforehand and I did some freelance work for various television companies, but it was all light entertainment, magazine programmes that I worked on. Then, one day, the company that I was working for lost the franchise, so it was back to square one.
I put a showreel together and my agent arranged a meeting with the Weather Channel. I remember at the time thinking, I don't want to be a weather presenter, but I went along to the interview anyway. I took to it like a duck to water because it was a new challenge, I fell I love with the weather there and then and was lucky enough to be offered the job.
2.Be polite, courteous and kind
My parents drilled it into me to be polite, courteous and kind and to treat others how you would like to be treated yourself.
I think they're good rules of thumb to live by. I always want to be that person, believe me when I say I fall by the wayside all of the time and I get as cross and grumpy as the next person, but my default position is always positive and happy.
I grew up in the highlands and we get a lot of rain. I was one of eight children in my house and I had a very free childhood. My favourite thing to do when I came home from school was to jump on my bike with my sister and go to the beach, so the weather was really important to me.
3.Be prepared to train and study hard
The Weather Channel sent me off to Atlanta for training in weather presentation the American way and I was introduced to meteorology for the first time. I stayed with them for a couple of years and then moved back to the UK when they started a channel here.
When the company decided to pull out of Europe I found out that the BBC had just launched News 24 as was, so I applied for a job with them, never in a million years thinking I would get it.
I had copious interviews for it, with the Met Office and with the BBC, I think there were at least three or four. When I finally got the job, I was sent straight off to The Met Training College to do further training in meteorology and some more exams.
4.You've got to love the weather
So it was a long winded route but oh boy was it worth it - I love it! Never let anybody tell you the weather is boring because it's not, it changes every single day.
I love watching temperatures and breaking records. Watching rainfall totals can be fascinating and hurricanes can be horrible if you're going to be affected by one, but for us it's like is it a category three or four or five - the big beast! You can't help but get caught up in it.
No matter how exciting it can seem to me and my colleagues, you've got to think about the human aspects as well as just the meteorological side of things.
5.Never stop learning
The training I would say is vital and ongoing, it doesn't stop, I'm still always learning. So even though you might have done your exams early on, we have further courses we go on and because of the nature of the weather, it's always changing and so is the job.
I come in each morning at five o'clock, there is a conference call with the chief forecaster from the Met Office, who in our terms is God. If he says it's going to rain, it's going to rain.
So we can discuss these things with experts in their fields, we've got the crème de la crème and even in the office, I'm mixing with superb forecasters, who are all broadcast meteorologists, that's our real title. It sounds daft, but we talk about the weather all the time.
6.Don't worry about getting it wrong, everyone makes mistakes
You have to do your job, whatever it is, to the best of your ability. Occasionally the weather is wrong, but more often than not, it's right.
I don't worry about having a Michael Fish moment. I used to, when I was a rookie weather presenter, but I don't anymore because you can't change it. If the weather forecast occasionally goes wrong, it's not necessarily because of something you've done.
We all get things wrong. If I was working for a large corporation in sales for example, and trying to forecast expected sales for the next quarter, things can go wrong in that quarter that might mean you won't meet your targets or things can go very right and you exceed your targets, it's forecasting and anyone who forecasts in any organisation knows that things sometimes do go wrong.
7.Don't think it's going to be easy
I love it but it isn't easy, it's probably the hardest job in presenting I have ever done. We don't have autocue, which a lot of people don't know, so everything is off the top of your head.
Because we work into and out of live news programmes, durations can change there can be breaking news and you've always got to make it sound like you were supposed to end there, not suddenly crash out of the weather in the middle of a sentence.
I do a lot of outside broadcasts which I also love, but there's a lot to remember. You're looking down the barrel of a small camera, there is no monitor, there is no autocue, I'm out there with my little telephone, a notepad and a pen.
8.Be prepared to work hard and get up early
I get up between 0245 and 0300 am each day for work. I try to be in bed by 8pm and I average between four and six hours sleep a night and sometimes it isn't enough!
The makeup ladies here are fabulous! I don't look glamorous at all, they gasp when I arrive, but they slap it on! When I'm in the conference call at 0500 am, they are busily doing my hair, so there is not a minute of wasted time.
I decide what I wear each morning so all my mistakes are my own! I never plan what I'm going to wear and every morning I wish I had!
9.Be yourself and relax
I'm always exceedingly flattered when I win an award and to be honest I don't expect to because I certainly don't think I'm the best at what I do. There are so many brilliant weather presenters across every channel, but I'm biased towards the BBC so I think we've got the best of the best.
I think to be a good weather presenter, or any presenter, you just have to be yourself. And I think people will forgive you your mistakes if you're honest and acknowledge them, nobody is immune to making a mistake on air.
Be yourself and relax and then everything else will follow. I was as stiff as a board when I started and looked like I had a hanger in my shoulders! I'm much more conversational now, you reach a stage where it feels like the audience are your gang, so you're talking to your friends basically.
10.Follow your dreams
I love my job and I do get to go to some fabulous places; two weeks at Wimbledon in the summer, Buckingham Palace, Royal Ascot, I get to go all over the shop and see things that other people don't get to see so close up.
I always get asked how I can be so happy so early in the morning and my answer is easy - I love my job! I love working with my colleagues on Breakfast, in front of and behind the scenes and my colleagues in Weather, the way I see it is I'm lucky enough to be working with my friends.
So no matter how tired I am, or how grumpy I feel when I'm getting out of bed at 0300 am, when I get in here I'm genuinely pleased to see everyone - they're a great team. The best piece of advice I can give anyone is to follow your dreams, because if you do, I think anything is possible.
____________