Art made from baby's chewed objects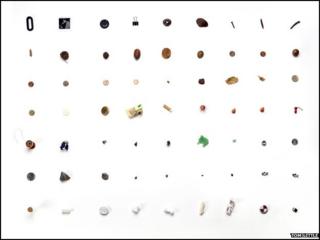 A collection of items retrieved from a baby's mouth have been turned into art.
British artist Lenka Clayton decided to document the items her son Otto tried to eat when he was eight months old for seven months.
The objects include bubblegum, buttons, a cigarette butt, coins in three currencies and a specimen vial.
The work, called 63 Objects Taken From My Son's Mouth, is on show at Crystal Bridges Museum of American Art in Arkansas.
"To be included I had to physically extricate the object myself, and have a real fear [Otto] was about to swallow it," Clayton said.
"The collection began when he started putting things in his mouth at about eight months old and ended with the last object he put in his mouth when he was around fifteen months. [It] indirectly documents those months of our lives in small objects."
The project began when Otto - who is now three years old - appeared before his mother in a Paris hotel room with a plastic sachet of rat poison in his mouth.
"What interested me afterwards was when something so terrible and life-threatening turned into something else - a story. From a moment of horror came something like humour," Clayton told the Daily Telegraph.
The artist photographed each item and compiled a book and exhibition of all the objects.
The artwork is part of Clayton's ongoing Artist Residency in Motherhood project.
"I aimed to embrace the fragmented mental focus, exhaustion, nap-length studio time and countless distractions of parenthood as well as the absurd poetry of time spent with young children as my working materials and situation, rather than obstacles to be overcome," she said.