ITV's Grantchester to return for a second series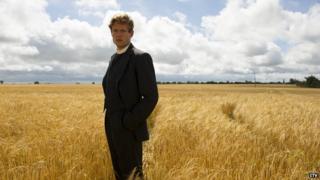 Robson Green and James Norton will return for a second series of detective drama Grantchester, ITV has announced.
Based on the novels of James Runcie, the show averaged 6.6m viewers in its first series earlier this year.
It follows clergyman Sidney Chambers (Norton) and Detective Inspector Geordie Keating (Green) as they investigate wrongdoing in their small community during the 1950s.
Norton reacted to the recommissioning by tweeting he was "chuffed as punch".
Daisy Coulam will return to write the new episodes, adapting stories from Runcie's second Grantchester Mysteries novel, Sidney Chambers and the Perils of the Night.
Runcie, currently head of literature at the Southbank Centre in London, was inspired to write the detective stories by his father Robert, the former Archbishop of Canterbury.
"We received a tremendous audience reaction to Grantchester," said ITV's director of drama Steve November. "It was so well received, it was an easy decision to commission a new series."
Diederick Santer, founder of production company Lovely Day, said: "The show is a joy to make, so we can't wait to get back to working on it".
Filming will start in London and Cambridgeshire next year.