Harold Pinter letters acquired by British Library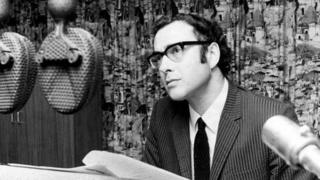 The British Library has acquired a collection of more than 100 letters by celebrated playwright Harold Pinter.
The letters were written by Pinter to a pair of childhood friends, Henry Woolf and Mick Goldstein, when the writer was in his twenties.
Subjects range from the early development of Pinter's play The Birthday Party to the rise of the then unknown playwright Samuel Beckett.
Woolf described the letters as "bursting with energy".
The letters, which are available to researchers in the library's Reading Rooms, will join its existing Pinter archive, which was acquired in 2007.
'Larky'
Pinter, who died in 2008 aged 78, wrote more than 30 plays including The Caretaker and The Birthday Party. His film scripts include The French Lieutenant's Woman and The Go-Between.
His widow, Lady Antonia Fraser, said she was "tremendously excited" by the newly acquired letters.
"It was fascinating to read what the young Harold wrote," she said.
One of the letters from the archive will also be on public display at the library from the beginning of December.
"For over sixty years, Harold Pinter sent me letters bursting with energy and passionate concern, crammed with laughter too when he felt larky," said Woolf.
"I am so glad the British Library keeps them safe now for all the world to see."
The Library has also announced plans to create a series of large embroidered panels replicating Wikipedia's article on the Magna Carta on its 799th anniversary last year.
The tapestry, by artist Cornelia Parker, will be stitched by more than 200 people including prisoners, MPs and civil rights campaigners.
It will be unveiled at a free exhibition in the British Library in May 2015 to mark the 800th anniversary of the sealing of the Magna Carta.