Katie Price ghostwriter, Rebecca Farnworth, dies at 49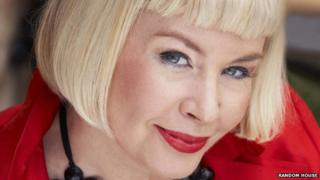 Rebecca Farnworth, the ghostwriter behind Katie Price's best-selling book success, has died of cancer aged 49.
The Brighton-based writer, who teamed up with Price after working as a print journalist and radio producer, died on 24 November.
Farnworth wrote all 14 books under the model and businesswoman's name.
Her first autobiography in 2005, Being Jordan, sold more than a million copies and her 2007 novel Crystal, outsold the entire Booker Prize list that year.
Farnworth's literary agent, Maggie Hanbury, said the success of the first volume of Price's memoirs had been "much to the amazement of the publishing industry".
"The book broke a mould, creating a new genre that went on to spawn countless other celebrity memoirs," Hanbury said.
The mother-of-three worked on nine of Price's novels and all five autobiographies, including Love, Lipstick and Lies in 2013.
Price, who used to go by the name Jordan, admitted she was "not a professional writer".
"You have to have the imagination to really set the scene," she said in October at the launch of her latest novel, Make My Wish Come True, which was not written by Farnworth.
"I come up with a plot with the [ghost] writer, and then we go through each chapter together."
Despite being most famous for her work with Price, Farnworth also had three of her own fiction books published.
Her first in 2008, titled Valentine, was followed by A Funny Thing About Love and Swimming Pool Summer.
Ms Hanbury added Farnworth was not only successful professionally, but also a pleasure to work with.
"Vibrant and full of life, Rebecca was huge fun to work with, always ready with a quip to set the room alight with laughter.
"She created memorable authentic characters that seemed to have a life of their own," she said.
Price has yet to comment on Farnworth's death.