Boxtrolls leads Annie Award nominations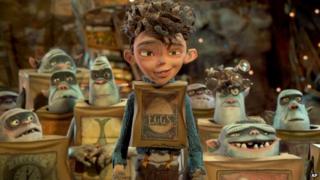 The Boxtrolls leads the nominations for the 42nd Annie Awards, which honour the year's best achievements in animation.
The stop-motion film about an orphaned boy raised by cave-dwelling trolls landed 13 nominations, including the coveted best animated feature prize.
Disney's current release Big Hero 6 and The Lego Movie also compete for the event's top prize, as does sequel How To Train Your Dragon 2.
The awards will be handed out at a Los Angeles ceremony on 31 January.
They cover 36 separate categories including feature film, short-form and television work, as well as individual achievements in character animation, design, effects, music, storyboarding, writing and voice acting.
Disney picked up 30 nominations in total, followed by Dreamworks with 15.
Actor Sir Ben Kingsley received a nod for the voice of Archibald Snatcher in The Boxtrolls.
The film's other nominations included best character animation and design, writing and directing in an animated feature.
How To Train Your Dragon 2 scored 10 nominations, joining The Boxtrolls in the character animation, animation effects and best feature categories.
Dean DeBlois, who wrote and directed the film, received two nods for his sequel to the 2010 film based on Cressida Cowell's book series.
The Annie Awards usually indicate which titles will be nominated for the Oscar Academy's best animated feature prize.
Disney's box office smash Frozen won both the best animated feature Annie and Oscar awards last year.