Star Wars trailer inspires fan parodies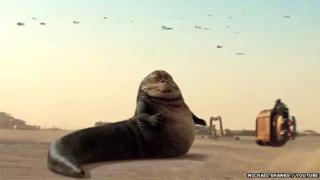 The 88-second trailer for Star Wars: The Force Awakens has amassed more than 40 million YouTube views in 72 hours.
But it has also inspired a series of spoofs, including a "George Lucas edition", which pokes fun at the director's poorly received prequels.
The parody - viewed nearly four million times - was created by Michael Shanks and is cluttered with extra CGI and a voice-over about trade negotiations.
A Lego version of the trailer appeared within 24 hours of the original.
Pieced together brick by brick and shot by shot, the video recreates shots of a rolling R2 droid and the Millennium Falcon.
The animator also comes up with an ingenious way of replicating the new three-pronged lightsaber.
It has so far been seen two million times.
A third parody takes aim at director JJ Abrams, who has been hired to oversee the renewal of the sci-fi franchise.
Noting his fondness for lens flare (the director took the unusual step of apologising for over-using the effect in his Star Trek films) it adds glaring reflections to every shining surface in the trailer.
The official teaser trailer - the first look at a film that is not out for another year - has generated reams of media coverage.
It opens with a simple shot of the desert and a mysterious voice (now confirmed to be Andy Serkis) intoning: "There has been an awakening."
British actor John Boyega then bursts cartoonishly into frame, wearing the suit of a Storm Trooper.
We also see newcomer Daisy Ridley as the film's heroine and Oscar Isaac as an X-Wing pilot, as well as a long tracking shot of the Millennium Falcon.
Film critic Robbie Collin called the preview "spine-tingling" and "beautiful".
The brief glimpses of action "suggest a franchise getting back in touch with its sense of swashbuckling fun," he wrote in the Telegraph.
Film magazine Empire said it was "notable for what it doesn't show", with returning stars Mark Hamill, Harrison Ford and Carrie Fisher all absent from the action.
"There's still no notion of the overall story," it added, but conceded "it's a cracking teaser".
Meanwhile, geek culture websites like IGN and Den of Geek pored over the smaller details - the design of the Millennium Falcon has changed slightly, the Storm Troopers are carrying a new type of blaster, the X Wing appears to have been given a fresh coat of paint.
However, there were more unpleasant reactions for 22-year-old Boyega, who rose to fame in the British film Attack The Block.
Online trolls targeted the actor with racist abuse, while some Star Wars fans complained that a Storm Trooper couldn't be black "because they are all cloned from Jango Fett".
Boyega responded with a statement saying "Thank you for all the love and support... Isn't it crazy that Star Wars is actually happening?"
He added: "To whom it may concern... Get used to it."
The seventh film in the Star Wars universe, The Force Awakens is due for release in December 2015.
It will be set 30 years after 1983's Return of the Jedi, according to Disney chief Bob Iger.