Prime Suspect on World Book Night giveaway book list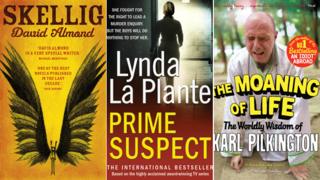 Lynda La Plante's Prime Suspect is among the books to be given away on World Book Night in 2015.
Other titles chosen include David Almond's Skellig, The Moaning of Life by Karl Pilkington and Roddy Doyle's short novel Dead Man Talking.
A poetry anthology has also been included on the list for the first time since the scheme launched in 2011.
Volunteers will hand out 250,000 free books on 23 April next year to encourage more people to read.
"I'm really pleased that one of my books is to be part of World Book Night," Almond said. "What a great, optimistic, liberating, democratic project."
The event is run by national charity The Reading Agency, with books donated by publishers.
The 20 titles for 2015 are:
After the Fall by Charity Norman
Agatha Raisin and the Quiche of Death by MC Beaton
Assassin's Apprentice by Robin Hobb
Chickenfeed by Minette Walters
Custard Tarts and Broken Hearts by Mary Gibson
Dead Man Talking by Roddy Doyle
Escape from Camp 14 by Blaine Harden
Essential Poems from the Staying Alive Trilogy edited by Neil Astley
Honour by Elif Shafak
My Sister Lives on the Mantelpiece by Annabel Pitcher
Prime Suspect by Lynda La Plante
Queen's Gambit by Elizabeth Fremantle
Skellig by David Almond
Spring Tide by Cilla and Rolf Borjlind
Street Cat Bob by James Bowen
The Martian by Andy Weir
The Moaning of Life by Karl Pilkington
The Unlikely Pilgrimage of Harold Fry by Rachel Joyce
Water for Elephants by Sara Gruen
When God Was A Rabbit by Sarah Winman