Online porn restrictions 'will lead to UK exodus'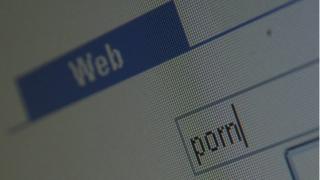 Legislation that puts limits on online porn filmed in the UK will "massively" disadvantage the UK industry, according to a leading adult broadcaster.
The new regulations require that video-on-demand online porn adheres to the same guidelines as R18 adult material available in licensed sex shops.
Chris Ratcliff of Portland TV said the industry was "already disadvantaged" compared to overseas competitors.
The result, he predicted, would be "an exodus of companies out of the UK".
The 2014 Audiovisual Media Services Regulations that became law this week are aimed at bringing online pornography within the parameters of the R18 rating given by the British Board of Film Classification (BBFC) to "explicit works of consenting sex or strong fetish material involving adults".
Certain content is not acceptable in an R18 work, including "the portrayal of sexual activity which involves real or apparent lack of consent" and "the infliction of pain or acts which may cause lasting physical harm".
The new constraints placed on filming some acts have been criticised by some communities and caused some commentators to brand them as sexist.
"What it does is take out big swathes of material that, albeit on the fringes, are still very popular in this territory and globally," said Mr Ratcliff.
He also admitted there had been "a degree of misrepresentation" in the media regarding what specific acts were no longer permissible.
The new regulations do not apply to overseas or offshore content that is freely available to UK consumers and represents more than 99% of the industry as a whole.
"The big challenge we face operating in the regulated UK sector is the complete lack of parity between us and the unregulated offshore sector," said Ratcliff, whose company operates channels across the Sky, Virgin and Freeview platforms.
Improved age verification tools, he added, are a more effective means of protecting minors from inappropriate material than "the tightening-up of regulation in respect to content strength" - a move he said was "a mistake".
The Department for Culture, Media and Sport (DCMS) spokesman said the legislation "provides the same level of protection to the online world that exists on the high street in relation to the sale of physical DVDs."
"In a converging media world these provisions must be coherent, and the BBFC classification regime is a tried and tested system of what content is regarded as harmful for minors."