Kiesza: From elite sniper to chart topper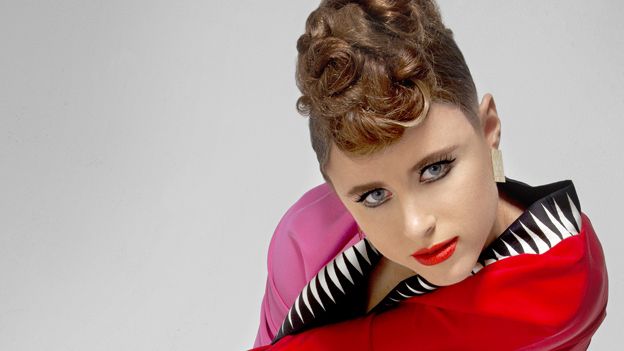 Ballerina, sailor, sniper, model, code-breaker, jazz scholar, pop writer. Just reading Kiesza's CV is exhausting, never mind living through it.
For the moment, the 25-year-old has settled on being a dance diva, with a trio of chart-busting house singles.
Born Kiesa Rae Ellestad and raised in Calgary, Canada, she never intended to become a solo artist, having spent her early 20s writing for the likes of Rihanna and Kylie Minogue.
But Hideaway, a song composed and recorded in a couple of hours, turned out to be too good to give away.
Accompanied by a one-take video, in which Kiesza dances down a shabby Brooklyn back street, it sold more than 2 million copies and inspired hundreds of YouTube tributes.
Notoriously, the star broke a rib just before filming the video and "couldn't move for a month afterwards".
When the BBC catches up with her, the rib has healed - but she's almost lost her voice, thanks to a punishing tour schedule. After a few warm-up exercises, however, she is ready to chat about her injuries, inspirations and the time she was thrown in a gas chamber.
Sorry to hear about your voice. Being a pop star isn't all it's cut out to be, is it?
It's tough if you want to have a busy schedule, for sure. I had to cut out everything - alcohol, caffeine - anything that would dehydrate me, just to balance out the amount that aeroplanes dry out my voice.
If you told people they had to give up alcohol to become famous, I think many of them might reconsider.
I guess you don't have to, technically. But I like to work a lot and I like to sing. I don't want to cancel shows, so I do everything I can to maintain my stamina.
You've crammed a lot of things into your first 25 years. Take us through the story...
From the age of three to 15, I wanted to be a ballerina and trained really, really hard. Then I had that classic movie story moment, where I had an injury and had to give up my dream.
It was totally depressing but I was young so I could bounce back. I'd tried sailing before, so I decided to give that a shot. I became an instructor, I got into racing, I started sailing tall ships. Through that, I ended up joining the [Canadian] Navy. It seemed like a good idea at the time.
Is it true they put you in a gas chamber?
Yes! It was horrible. I imagine the reason was both to prove to us that our gas masks worked and to show us, first-hand, why we should fear gas.
Why didn't your ballet injury rule you out of navy service?
A lot of the injury was to do with the point shoes. I had been over-stretched, so the injury was related to my IT (Iliotibial) band. Basically, this ligament was popping out of my hip socket, so it was really messing up my knees and my hips. I had to let the inflammation go down, and let the muscles build up again.
The navy is as physical as ballet for a short period of time, but you're not walking around on your tip-toes.
Even when you're sneaking up on the enemy?
Ha, ha! Those sneak-up crawls are really painful but they're painful on the abs and the butt. I was actually really, really good at the navy [she was also invited to join an infantry unit to be mentored by an elite sniper]. It was specific things related to ballet that I wasn't able to do.
And then you ended up being a songwriter. How?
I brought a guitar on the boat once and started learning. Then I made a little demo CD and sent it to music college before we sailed to Hawaii. When I got there, I found out I'd been accepted.
A lot of pop artists are wary of being classically trained. What do you think?
You cannot go wrong by learning classical music because it trains the ear. I learnt classical theory and jazz theory [and] having it there when you're stuck in a songwriting session helps you solve the problems.
Jazz used to influence pop music a lot more - now it seems to be based on beats.
Oh yes, people will literally make you a loop. There's nothing wrong with that - you want to keep pop music simple - but it's become a factory system.
A lot of producers now aren't instrumentalists. They're kids who have a computer and learn their program. So I find a lot of them use the same chords, or make the songs in the same key, simply because it's the only key they know.
Before Hideaway, you recorded a more folk-inspired album. How does that compare to your "proper" debut?
The album I made in my early years of college was a way of exploring myself as a songwriter. There wasn't any specific direction to it. Sound of a Woman is my first album with an artistic identity. It feels like my first album.
You've really tapped into the deep house revival. Why has it come back instead of other 90s sounds - like Bryan Adams or the Vengaboys?
Oh man, the Vengaboys are my guilty pleasure. [Sings] "Boom, boom, boom boom, I want you in my room". It's pop perfection.
But I've thought a lot about why deep house has had this resurgence. For me, it was a response to the past four years of 128 bpm [club] music. If you try to dance to that, it's a workout. You jump up and down, you fist pump and you're exhausted.
At the tempo where deep house sits naturally, which is about 120bpm, people can move their whole bodies to it, and that gives a much deeper connection.
Hideaway is the 12th best-selling single of the year in the UK. Had you any idea how big it would become?
No! I thought it'd be an underground song with an independent following.
Was it really written and recorded in an hour?
It was one of those songs where I had a melody pop into my head suddenly and I knew I'd forget it if I didn't record it straight away. I decided to just get it out, so I could come back to it - but Rami, my producer, was so inspired he created the whole track as I was writing the melody. Literally within 90 minutes the whole song was recorded, mixed and mastered, and we never changed it after that.
And you decided to keep it for yourself...
For me to write a song and not give it away was unheard of at the time, but I couldn't let go. I didn't want anyone else to sing it. It was a deep gut feeling. I realised I should take a chance and bet on myself. And it worked!
Kiesza's album, Sound of a Woman, is out now on Virgin EMI records.
Related Internet Links
The BBC is not responsible for the content of external sites.