Billy Cotton: A life less ordinary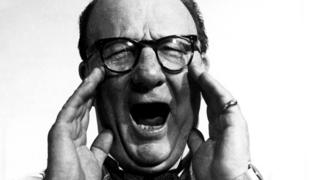 For several decades Billy Cotton was a household name in Britain, as a band leader, radio and TV presenter. But there was a lot more to him than met the eye.
Billy Cotton was showbusiness for two decades after the war.
His Sunday lunchtime radio show - which transferred to television in 1956 - was heralded with his trademark catch phrase "Wakey wakey" and became a staple for millions of households between 1949 and 1968.
Ironically his great-niece Fearne Cotton is herself a household name now and she presents a special documentary about him on Radio 2 this week.
One of Billy Cotton's band's most famous songs was "I've got a lovely bunch of coconuts" but Michael Grade told the programme his appeal was always "broad brush" and never "vulgar".
What many people did not realise was that despite being a band leader and arranger he could not play an instrument or read a word of music.
At its peak in the early 1960s the show had an audience of 20 million and regular guests included Dionne Warwick, Cliff Richard, Cilla Black, Sandie Shaw, Adam Faith, Tom Jones and Lulu.
And many, like Jones, got their big break on the show.
Cotton's former producer Brian Tesler described his qualities as a presenter: "He had natural ability, a great sense of humour and a way of making good friends with good people once he thought they were on the same wavelength as he was."
Cotton, an avuncular figure, was 50 when the programme first aired.
But he had packed an awful lot into those 50 years and his life sounds like something out of Boy's Own.
The youngest of 10 children, he was born into a close-knit, working class family in Smith Square, Westminster, which was a very different place from what it is today.
He joined the army at the age of 15 - his dad threatened to "send him to bed" when he found out he had joined up - and served at Gallipoli in World War One.
Pilot, boxer, footballer
Later he became a pilot for the Army Flying Corps, but crashed his plane and was nearly killed on the same day the Royal Air Force was created.
After the war he boxing as a welterweight for London Polytechnic and played football briefly for Brentford - scoring on his debut against QPR. Later he turned out for non-league Wimbledon.
Cotton worked the 4am shift in an east London factory and married Mabel Gregory in 1921.
When Mabel got pregnant Cotton got a job as a bus conductor, and played the drums in a band at Ealing Palais from 7pm until midnight.
He later got a job fronting the London Savannah Band.
The band, who started out playing in Brighton and then Southport, made it big in the 1930s when they moved to Ciro's club in London's West End and recruited singer Alan Breeze.
His signature tune would be "Somebody Stole My Gal".
He loved speed and danger and in September 1936 he tried to break the world land speed record on the sands at Southport.
In his memoirs, he joked that the car had two speeds - "fast" and "stop".
He did not break the record but his 121.5mph was a very impressive speed.
He raced at the British Grand Prix at Donington in 1938 and finished his racing career in 1949 at the Silverstone International Grand Prix, coming fourth.
Cotton was a life-long Charlton fan and his recording of Red Red Robin is still played at The Valley before the team's matches.
His love of speed, danger, sport and fun made him a "bloke's bloke", according to Michael Grade, whose father Leslie was his agent.
"He was a man of the people. He brought entertainment out of the elitist, patrician world of the way the BBC and (Lord) Reith used to think about it," says Grade.
During World War Two he entertained the troops with his band and despite the demise of the variety scene in the late 1940s, he bounced back with The Billy Cotton Band Show.
Roving eye
He was a womaniser who had affairs with Doreen Stephens, one of the singers in his band, as well as several other women.
Grade says: "It was pretty common knowledge that he was a philanderer. His own behaviour left a bit to be desired but he always went home, and looked after the family."
Grade says Billy's youngest son Bill Cotton - later a TV producer and BBC executive - "worshipped" his father, but was no doubt affected by the way his mother was treated.
In the early 1950s Mabel moved into a house in Sandbanks, near Bournemouth, while Cotton rented a flat together with Doreen in London.
The media never mentioned the affair and Cotton's reputation was unaffected.
Mr Tesler said: "The relationship with Doreen was perfectly straightforward. In no way did it appear lascivious, in no way did he appear a rutting old devil, there was something thoroughly straightforwardly British about it."
But he worked 52 Sundays a year and was also playing gigs all around the country.
Health problems
In 1955 he hit the buffers, suffering a nervous breakdown because he was working too hard.
But he soon bounced back and transferred the show successfully to television.
In 1962 Cotton suffered a stroke but made a remarkable recovery, which he put down to a psychic healer brought to the hospital by his then lover Kathy Kay.
That same year he was crowned Showbusiness Personality of the Year by the Variety Club of Great Britain.
He enjoyed giving young singers a break. In 1968 Sandie Shaw was one of those and she remembers him as a "very sweet" man who soothed her nerves.
Cotton worked right up until his death.
On 24 March 1969 he sang "Maybe It's Because I'm a Londoner" at a charity function. It turned out to be his requiem.
The following night he keeled over and died while at the Empire Pool in Wembley watching a heavyweight boxing match between Londoner Billy Walker and Jack Bodell from Derbyshire.
Grade remembers: "The whole nation was shocked. I was personally very shocked. He was indestructible. He was one of the pillars of the UK. Take Billy Cotton away and you'd think the country might fall over."
His funeral was at Westminster Abbey, around the corner from the house where he was born.
Fearne Cotton says of her great-uncle: "His life is such an amazing story. I am so happy to say that I am part of the Cotton clan and to have this legacy as part of my family history."
Listen to Fearne Cotton telling the story of Big Band, Big Man - The Billy Cotton Story, broadcast on Radio 2 on Tuesday 23 December at 22:00 GMT.