Boyhood bags more film critics' awards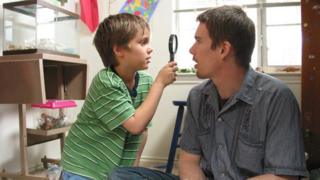 Boyhood has won another haul of critics' awards, a signal that Richard Linklater's film is gathering momentum in this year's awards race.
The coming of age drama was named best picture of 2014 by the Los Angeles Film Critics Association (Lafca) on Sunday.
Boyhood was also named best picture by the Boston Society of Film Critics.
Both organisations gave Linklater their best director awards, while Lafca gave its best actress prize to Patricia Arquette, the film's female lead.
Boyhood, which charts a young boy's passage to adulthood and took 12 years to make, was crowned best picture last week by the New York Film Critics Circle.
Los Angeles' critics also recognised its editing.
Boston also honoured the film with its best ensemble cast, best screenplay and also best editing prizes.
Boyhood shared the best screenplay accolade with Alejandro Inarritu's film Birdman, which received three additional prizes from the Boston-based organisation.
Boyhood's winning streak continued on Sunday night when it was named best international independent film at the British Independent Film Awards in London.
British talent did not go unrecognised by Lafca, which chose to give its best actor prize to Tom Hardy for his near-solo performance in Locke.
Boston's critics awarded best actor to Birdman's Michael Keaton, while they named Whiplash star JK Simmons best supporting actor - as did their California counterparts.
The Los Angeles Film Critics Association will hand out its prizes at a ceremony on 10 January, a day ahead of the 2015 Golden Globes.
The nominations for the Globes, which recognise both film and television, will be announced by the Hollywood Foreign Press Association later this week.