How Oliver Cromwell's coffin plate ended up for auction
By Vincent Dowd
Witness programme, BBC World Service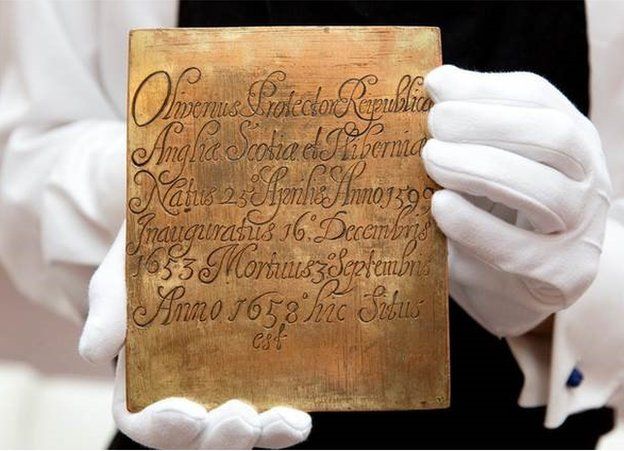 A unique item from British history is being sold this week at auction in London. The metal plate was removed from the coffin of Oliver Cromwell in 1661 when it was opened up two years after his death. What followed was grisly: Cromwell's body was taken away for beheading in revenge for his part in the killing of a king.
The copper gilt coffin-plate being sold at Sotheby's in London evokes an extraordinary and violent era of Britain's history.
When Cromwell died in 1659 he was given a funeral ceremony at Westminster Abbey literally fit for a king: it was copied from that of James I.
Cromwell's period as head of state had interrupted centuries of royal rule in England.
The plate says, in Latin: "Here is buried Oliver Protector of the Republic of England, Scotland and Ireland."
A decade earlier Cromwell and his fellow Roundheads had concluded that political power would never pass irreversibly to parliament so long as King Charles was alive.
Charles was beheaded at Whitehall on January 30th 1649.
Yet after Cromwell's own death England soon became a monarchy once more, under Charles II.
The new king and his supporters wanted retribution against those complicit in Charles I's death.
The fact that some of the most important figures were already dead did not discourage them.
Earl Spencer is a descendant of Charles II, "but ignobly, through a series of mistresses". His book Killers of the King looks at Charles' I death and what came of it.
"As a historian I would say that absolutely clearly Charles I had to die. The country had suffered a war with a very high casualty rate. Cromwell for a long time did think there could be reconciliation.
"Then he became convinced that the only way forward was the death of a king to put a line under the Civil War. Cromwell's hand was everywhere in the trial and execution of Charles I," he explains.
"By the standards of his era Cromwell turned out to be a tolerant person - for instance he treated people of the Jewish faith far better than the royals who preceded him.
"His years in power were pretty stable and when he died, aged 59, many people genuinely mourned him. The coffin plate was a mark of respect, meant to see him into the afterlife."
Gabriel Heaton of Sotheby's says the body of the Lord Protector lay in a double coffin.
"The plaque lay on the inner anthropoid coffin which was metal and shaped to Cromwell's form. It wasn't soldered on or screwed to the metal: it simply lay above Cromwell's breast.
"People must have assumed that once the outer coffin was sealed the tablet would never be seen again. That turned out to be far from the case."
After Cromwell's death, his son Richard became Lord Protector for less than a year. But, unable to secure the support of the army, Richard's power-base crumbled.
By May 1660, England had reverted to a monarchy under Charles II.
A few months later Cromwell was removed from Westminster Abbey and taken to the gallows at Tyburn in London (today Marble Arch) and publicly cut to pieces, along with the bodies of fellow Roundheads.
Sotheby's say the coffin plate has been in the possession of the Harcourt family since the nineteenth century. More complex has been the history of Oliver Cromwell's head since it was cut off 350 years ago.
For years the severed head sat on a spike above Westminster Hall as a warning to others. Eventually it was secretly buried at Sidney Sussex College, Cambridge.
But Earl Spencer says that what happened after the monarchy was restored was in part theatre and not as blood-soaked as it might have been.
"The incoming regime had marked down 80 men as responsible for the death of the new king's father.
"Parliamentarians wanted to show how anti-Cromwell they'd been all along. There were executions but arguably destroying a few corpses allowed anger to be vented without doing too much damage.
"It seems very medieval and macabre to us. But the mind-set of some people even in the seventeenth century was that destroying a body prevented any kind of second life."
Sotheby's have estimated the coffin plate at £8,000 to £12,000. It's relatively low but there are few similar sales to suggest how much the item might fetch at auction.
"Salesrooms are fond of the word unique," says Mr Heaton.
"But in this case the term is justified."
Related Internet Links
The BBC is not responsible for the content of external sites.