Dame Janet Suzman downplays 'white culture' theatre comments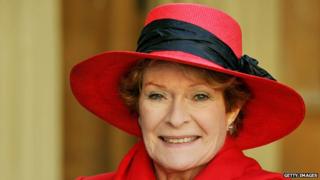 Dame Janet Suzman has downplayed reports that she claimed theatre "is a white invention".
The 74-year-old actress was quoted in The Guardian as saying theatre was in the DNA of white people but not others.
Dame Janet told the BBC her comments were exaggerated and the ethnicity of stage actors "doesn't matter".
The Shakespearean actor was responding to Meera Syal, who last week appealed to the theatre industry to cater more for Asian audiences.
"Theatre is a white invention, a European invention, and white people go to it. It's in their DNA. It starts with Shakespeare," Dame Janet told The Guardian.
Speaking to the BBC, the actress, who was made a dame in 2011 for services to drama, said that while her comments had been reported accurately, her argument was more nuanced than had been suggested.
She said that she agreed with actress and writer Syal that a greater range of stage performances needed to be commissioned in order to attract more eclectic audiences.
"Why are there not more Asian plays on in London? I agree that the theatre scene needs to be more diverse.
"Most of the faces I see at the theatre in London are white middle class with deep pockets, as it's so expensive.
"It seems to me that the solution is to just simply commission more Asian theatre performances.
"At the end of the day, if it's a good play, it's a good play. It doesn't matter what ethnicity the actors are," Dame Janet told the BBC.
The distinguished stage actress also told The Guardian: "I've just done a South African play. My co-star is a young black man from the slums of Cape Town. Totally brilliant actor. I saw one black face in the room, at the Print Room.
"I rail against that and say why don't black people come to see a play about one of the most powerful African states?
"And they don't bloody come. They're not interested. It's not in their culture, that's why. Just as their stuff is not in white culture," the newspaper reported.
The Shakespearean actor, who was born in and worked in South Africa, has been a vocal opponent of racism.
Her aunt was the anti-apartheid campaigner Helen Suzman.
Last week Goodness Gracious Me star Meera Syal's said that theatres are missing opportunities in not putting on performances that might appeal to Asian audiences with "an awful lot of money".
She told The Stage: "There's a very gregarious, moneyed, new generation [of Asian audiences] coming up, who spend an awful lot of money on entertainment and culture.
"I think the theatres are missing a trick if they're not putting on stuff that might appeal to those audiences," Syal added.
The daughter of Indian immigrants to Britain, Syal is a writer and actor and currently starring in Behind the Beautiful Forevers at the National Theatre.
Syal stressed that Asian theatregoers would not only see Asian plays, and that writers should not only write Asian plays for that audience.