Theory of Everything star Felicity Jones: 'Awards are a bonus'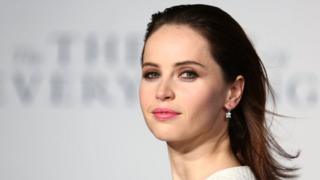 Eddie Redmayne is being talked up as a serious Oscar contender for his portrayal of Stephen Hawking in The Theory of Everything, but don't expect to see his co-star Felicity Jones sidelined during awards season.
As the stars of The Theory of Everything are keen to point out, the film is not a straight biopic of the author of A Brief History of Time. It's more the story of how his marriage was shaped and tested by the extremes of illness and academic success.
Opposite Redmayne's extraordinary portrayal of Professor Hawking is Jones as Jane Wilde, the fellow student he fell in love with at Cambridge in the 1960s.
"When you hear the word 'biopic' it doesn't fare well for the female character," admits the 31-year-old Birmingham-born actress. "She can be a bit of cipher. When I read the script I realised it was a love story about a relationship and its survival over 25 years. There was something very unconventional about it."
Wilde married Hawking after he was diagnosed with motor neurone disease and the film is based on her 2008 memoir Travelling to Infinity: My Life with Stephen.
Both Redmayne and Jones were able to meet the real people they portray in the film. Redmayne first met Hawking at the scientist's Cambridge home last year, just a few days before filming began. The actor had already undertaken four months of research, which included meeting people with motor neurone disease.
Likewise, Jones met Jane Wilde Hawking on several occasions. The first time was at Jane's home, where she lives with her second husband, Jonathan Jones, who is also a key character in the film.
"Meeting her made my job so much easier," Jones admits. "It's not a situation where you go in there and ask really personal questions. You are gently trying to get to know each other.
"I had tea with her and then we had dinner. Jane showed me slides of her and Stephen when they first met, and she brought down her wedding dress.
"Sometimes I'd feel quite disingenuous because I'd be chatting away to her and watching how she'd be picking up a cup of tea or moving her foot - trying to absorb as much as possible. In some ways you're a detective - trying to find clues."
When did she get a sense she had won Jane's trust to play the role?
"There was a look she gave me when she and Jonathan were waving me off at the end of the driveway. I felt there was a relief in her eyes.
"I had such an empathy for her. I really enjoyed playing her. I liked her eccentricity. Stephen and Jane can seem rather English but actually there's something incredibly Bohemian and carefree and reckless about them."
Brief history
Oxford-educated Jones has enjoyed a long acting career that includes ITV children's drama The Worst Witch and its sequel Weirdsister College. As a teenager she first played the role of Emma Grundy in BBC Radio 4's The Archers. Other TV work includes Doctor Who (in the David Tennant story The Unicorn and the Wasp) and Girls.
Her stage work in London includes Luise Miller and The Chalk Garden at the Donmar Warehouse and That Face at the Royal Court.
Her most recent appearance on the big screen was as Felicia Hardy in 2014's The Amazing Spider-Man 2. Other films include The Invisible Woman, where she played Charles Dickens' lover Nelly Ternan; and Like Crazy (which won her a special jury prize at the Sundance Film Festival), Cemetery Junction and Chalet Girl.
But none have brought her the kind of attention that has come with The Theory of Everything. She and Redmayne are both nominated for their roles at the Golden Globe and the Screen Actors Guild Awards. The pair are also expected to score Oscar nominations in mid-January. Bookmaker William Hill has her 12/1 to win best actress.
How does she feel about the Oscar buzz? "This film is something I'm so incredibly proud of. You make films that don't always come together or an audience don't respond in a way that you'd hoped, so I'm just so happy that people are watching and connecting with it.
"Awards are always a bonus, that's not what you're aiming for but it's really flattering."
Jones and Redmayne watched a lot of documentary footage of Stephen and Jane Hawking while they were preparing for the film. The actress says she was struck by the "symbiotic relationship" between the couple.
"When Stephen lost the use of muscles in his neck his head would fall forward and Jane would be talking to someone else and without even looking she would push his head back. She had a sixth sense for what was going on with his body all the time."
Recalling the first time she met Stephen Hawking, Jones describes him as "a movie star".
"He has such natural charisma. I feel he'd be famous whatever he was doing. He has an effect on you and he's incredibly witty.
"Somebody asked Stephen: 'What is the greatest mystery in the world?'
"There was a pause, and he just wrote: 'Women'."
The Theory of Everything is out now.