BBC Performing Arts Fund boosts theatre talent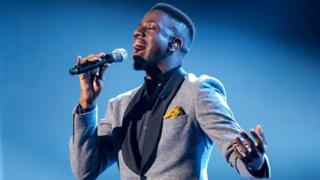 More than £300,000 raised by phone voting on BBC One shows like The Voice has been allocated to support new theatre and dance talent in the UK.
The BBC Performing Arts Fund has shared £320,000 between 32 choreographers, playwrights, directors and producers.
The grants will allow them to work with theatres and arts venues across the UK.
The charity receives the surplus revenue from phone voting on The Voice and Strictly Come Dancing and has awarded more than £5m since 2003.
The recipients of this year's fellowships are:
Sarah Bentley, theatre producer, working with Mayk, Bristol
Jasmin Ann Cooray, poet, working with Spread the Word, London
Stephen Coulter, creative producer, working with The Mac, Belfast
Nel Crouch, theatre director/writer, working with Tobacco Factory, Bristol
Dan Daw, dance artist/artistic director, working with South East Dance, Brighton
Antonio de la Fe, dance artist, working with Independent Dance, London
Beverley Grant, dance artist, working with Dance Base, Edinburgh
Amy Fisher, theatre producer, working with Box of Tricks, Manchester
PJ Harris, director working with Scottish Opera
Rikki Henry, theatre director, working with Home, Manchester
Emma Hill, theatre writer, working with Z-Arts, Manchester
Rosie Hood, folk singer, working with English Folk Dance and Song Society
Ola Ince, theatre director, working with Lyric Hammersmith, London
Brona Jackson, dance artist, working with DU Dance, Belfast
Rhian Jeffrey, theatre director, working with Prime Cut, Belfast
Max Johns, theatre designer, working with Bristol Old Vic
Anthony Lau, theatre director, working with Nuffield, Southampton
Jonathan Lo, conductor, working with Birmingham Royal Ballet/Rambert
Rebecca Lyon, circus tutor/performer, working with Jackson's Lane, London
Evie Manning, director, working with Freedom Studios, Bradford
Hannah Moore, choreographer/director, working with Halsway Manor, Somerset
Natalie Murray Beale, conductor, working with Fuel Theatre, London
Nina Patel-Grainger, theatre designer, working with Bush Theatre, London
Toby Peach, theatre maker, working with The Old Vic, London
Samantha Potter, playwright, working with Papatango theatre company, London
Melanie Purdie, creative producer, working with Yorkshire Dance/West Yorkshire Playhouse
John Ross, choreographer, working with Swindon Dance
Jenny Roxburgh, lighting designer, working with English Touring Theatre
Stacey Sampson, theatre writer, working with Tutti Frutti, Leeds
Emma Smith, dance artist, working with Scottish Youth Dance
Joseph Wallace, theatre director, working with Theatre-Rites, London
Rachael Young, theatre maker, working with Mac, Birmingham