Golden Globes: Cumberbatch, Redmayne and Jones among Britons recognised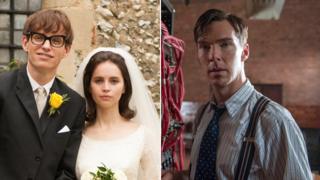 Benedict Cumberbatch, Eddie Redmayne and Felicity Jones are among a host of British stars in contention for the 2015 Golden Globe awards.
Cumberbatch, Redmayne and fellow Briton David Oyelowo make up three of the nominees for best actor in a drama.
Felicity Jones, Redmayne's co-star in Stephen Hawking biopic The Theory of Everything, is up for best actress in a drama, as is Gone Girl's Rosamund Pike.
The 72nd Golden Globes will be held in Beverly Hills on 11 January.
Cumberbatch's citation comes for his role as World War II code breaker Alan Turing in The Imitation Game, for which Keira Knightley gets a best supporting actress nod.
Bookmakers William Hill make Redmayne their 10/11 favourite to win the best actor in a drama award, with Cumberbatch just behind at 6/4.
Both actors were nominated for Screen Actors Guild awards on Wednesday, as were Jones, Pike and Knightley.
Cumberbatch and Redmayne are expected to receive Oscar nominations next month, as is Michael Keaton for his work in Alejandro Gonzalez Inarritu's darkly comic Birdman.
Because the Golden Globes divides its nominations between dramas and musicals and comedies, Keaton is shortlisted in a different category.
Redmayne said he was "beyond thrilled" and would "have a few mulled wines to celebrate", while Jones, who plays Hawking's first wife Jane in The Theory of Everything, said it was "a tremendous moment to get the news".
Knightley and Pike are among other nominees to have expressed pleasure and thanks at having been recognised.
Former Spooks star Oyelowo is shortlisted for playing Martin Luther King in civil rights tale Selma, which is nominated for the coveted best film drama prize alongside Boyhood, The Imitation Game, The Theory of Everything and Foxcatcher.
Ralph Fiennes is recognised for his comic performance in The Grand Budapest Hotel, which joins Birdman, Stephen Sondheim adaptation Into the Woods, Bill Murray comedy St Vincent and British film Pride in the best film comedy or musical category.
Dame Helen Mirren is shortlisted for best actress in a musical or comedy for The Hundred-Foot Journey, as is Emily Blunt for Into the Woods.
The latter film earns Meryl Streep her 29th Golden Globe nomination. If she is named best supporting actress for her performance as a fairy-tale witch, it will be her ninth triumph at this event.
Films with most nominations
Birdman
7
Boyhood
5
The Imitation Game
5
Gone Girl
4
The Grand Budapest Hotel
4
Selma
4
The Theory of Everything
4
Birdman, about a former superhero actor - played by Keaton - attempting a Broadway comeback, leads the flock this year with seven nominations. Richard Linklater's Boyhood - a coming of age story that took 12 years to make - and The Imitation Game both have five.
The Theory of Everything, like David Fincher thriller Gone Girl, Wes Anderson's The Grand Budapest Hotel and Selma, has four nominations in all, to the delight of Eric Fellner, one of its producers.
"We're thrilled," said Fellner, co-chairman of Working Title Films, of Redmayne and Jones' nominations. "The emotional power of the film comes from the performances of all of the actors.
"We've got some of the greatest actors, technicians and artists in the world based here in the UK," he told BBC News. "Every year there is a number of them recognised - and I think it's only right."
---
Golden Globes analysis
By Tim Masters, Entertainment correspondent, BBC News
The Golden Globes, voted for by some 85 foreign entertainment reporters in LA, have the reputation of being an unpredictable cousin of the Oscars. Things are no different this year, with several surprises among the announcements.
Good news for Jennifer Aniston: her role as a woman battling chronic pain in Cake is shortlisted for best actress (in a drama) to match her SAG nod. Next stop: the Oscars?
Not good news for Angelina Jolie: normally a darling of the Globes, her World War Two epic Unbroken was snubbed.
Pride, a British indie hit about about gay activists supporting striking Welsh miners, made the cut for best comedy/musical. It faces stiff competition from showbiz satire Birdman which is predicted to swoop to victory on 11 January.
The drama film field is dominated by true-life stories: Foxcatcher (eccentric billionaire John du Pont), The Imitation Game (codebreaker Alan Turing), Selma (civil rights activist Martin Luther King), and The Theory of Everything (physicist Stephen Hawking).
They are joined by Richard Linklater's fictional coming-of-age drama Boyhood. Will it win an Oscar? The last two Globe winners in this category - 12 Years a Slave and Argo (both based on real events) - went on to scoop best picture at the Academy Awards.
If the pundits are right, Linklater should start working on his acceptance speeches.
---
Pride's nomination represents a significant achievement for a modest British comedy about an alliance between striking miners and gay rights campaigners during the 1984 miners' strike.
Yet there were no nominations for Angelina Jolie's World War II biopic Unbroken or for Clint Eastwood's Iraq war drama American Sniper, while Christopher Nolan's Interstellar received just one nomination, for Hans Zimmer's score.
Selma's Ava DuVernay becomes the first black female film-maker to be nominated for the best director award, an honour she shares with Anderson, Fincher, Linklater and Inarritu.
The Lego Movie, Disney's Big Hero 6 and DreamWorks' How to Train Your Dragon 2 are up for best animated feature, as are The Boxtrolls and The Book of Life.
Double nominees
Former Friends actress Jennifer Aniston, recognised for her role as a woman addicted to painkillers in indie film Cake, joins Jones, Pike and Wild's Reese Witherspoon in the best actress in a drama category.
Moore is also nominated for playing a woman with early onset Alzheimer's in Still Alice, and earns a second nomination in the best actress in a musical or comedy category for her work in David Cronenberg's Maps to the Stars.
Nightcrawler's Jake Gyllenhaal and Foxcatcher's Steve Carell join the aforementioned British stars in the best actor in a drama category.
Gyllenhaal's sister, Maggie, receives her own nomination for her leading role in BBC miniseries The Honourable Woman, while Carell's co-star Mark Ruffalo is nominated for wrestling-based drama Foxcatcher and his work in HBO film The Normal Heart.
Bill Murray is another performer to receive two nominations - one for best actor in a comedy or musical in St Vincent, and another for his supporting role in TV mini-series Olive Kitteridge.
Organised by the Hollywood Foreign Press Association (HFPA), the Golden Globes recognise both film and television and is the biggest awards event in Hollywood after the Oscars.
The 11 January ceremony will be hosted, for the third consecutive year, by Amy Poehler and Tina Fey and comes six weeks ahead of the Oscars, which will be held on 22 February.
British nominees in the television categories include Downton Abbey's Joanne Froggatt, The Good Wife's Alan Cumming and Ricky Gervais, nominated for his comedy Derek.
BBC One drama The Missing is up for the award for best television movie or mini-series, while Martin Freeman and Clive Owen are recognised for their roles in Fargo and The Knick respectively.
Downton Abbey is up for the best television drama award, as are Game of Thrones, The Good Wife, House of Cards and The Affair - a Showtime series that has also earned nominations for its British stars Ruth Wilson and Dominic West.
The best TV comedy award, meanwhile, sees established shows Girls and Orange is the New Black compete against new series Jane the Virgin, Silicon Valley and Transparent.