David Lynch: Art house cinema is in a 'sad time'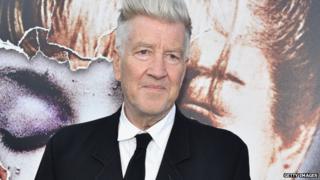 Director David Lynch has said alternative cinema is going through a "sad time" because many art house cinemas have shut and the best ideas are ending up on television instead.
Lynch, whose films include Blue Velvet and Mulholland Drive, said: "The new art house is cable television."
He also moved into TV in the 1990s with Twin Peaks, which will return in 2016.
He was speaking ahead of the opening of an exhibition of his paintings at the Middlesbrough Institute of Modern Art.
"The film business has changed," he told BBC arts correspondent Colin Paterson.
"The art houses are gone and the alternative cinema… the only place people really have is film festivals to show their work on a big screen. It's a sad time for alternative cinema."
He continued: "Things go in waves. I think if there was some great alternative cinema coming out, like the French new wave or something like this, or the Italian new wave - all these things that happened in the '60s - it could change things. It may be right around the corner."
Lynch was one of the first big-name film directors to move into TV when his cult drama Twin Peaks reached the small screen in 1990.
He said he did not watch movies at the cinema but had been impressed by series like Mad Men, Breaking Bad and True Detective on TV.
"The new art house is cable television," Lynch said. "The art house theatres that used to be have disappeared and alternative cinema, different kinds of ideas, non summer blockbuster-type films are ending up on cable television."
Lynch's last feature film was Inland Empire in 2006, and he said he had not made one since because "I haven't got any ideas for a feature film".
The director has now returned to Twin Peaks to make a third series, which he said would be screened in 18 months time.
Explaining the decision to revisit the show, he said: "[Co-writer] Mark Frost and I started getting ideas and we still have this yearning to go back into the world of Twin Peaks."
But details of the new series were "top secret", he added.
Lynch started his career as a visual artist, studying painting at the Pennsylvania Academy of the Fine Arts in the 1960s. He thought of the first film he made, he said, as a "moving painting".
The Middlesbrough exhibition, titled Naming, features his second short film The Alphabet alongside paintings and drawings he has made during his career.
Many are stark black-and-white images that combine words and pictures.
Asked what visitors could expect, Lynch replied: "They'll see some very interesting, sometimes beautiful things, that could cause a dream to start. It could thrill them in some way and, you know, it just depends on the viewers.
"Some will say 'This is not my cup of tea. This is primitive garbage.' Others will say, 'Woah, this is very sophisticated beautiful stuff and I'm off on a dream.'"
The exhibition runs until 26 March.