The Second Best Exotic Marigold Hotel chosen for royal gala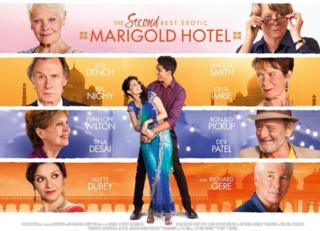 The Second Best Exotic Marigold Hotel has been selected as the next charity Royal Film Performance.
The sequel to the 2012 box office hit will be screened with members of the Royal Family in attendance on 17 February in London.
It sees Dame Judi Dench, Bill Nighy and Dev Patel reprise their roles, with Richard Gere also joining the cast.
Money raised from the screening will go to The Cinema and Television Benevolent Fund (CTBF).
The charity provides care and financial support to film and TV industry employees and their families who fall on hard times.
It has not yet been announced which members of the Royal Family will attend.
"We are thrilled to be able to host esteemed British director John Madden's highly anticipated sequel," Barry Jenkins, president of the CTBF said.
"At the end of our 90th anniversary year it is fitting that we can celebrate alongside such acclaimed British filmmaking talent."
The film sees Patel's character Sonny and hotel co-manager Muriel (played by Dame Maggie Smith) continue with their business as Sonny juggles his plans for expansion and an impending marriage.
It is due to be released in UK cinemas on 26 February.
The Best Exotic Marigold Hotel was a surprise hit when it was released.
It earned more than $135m (£82m) at the box office worldwide on a production budget of $10m (£6m).