Ade Edmondson takes on War and Peace role for BBC TV series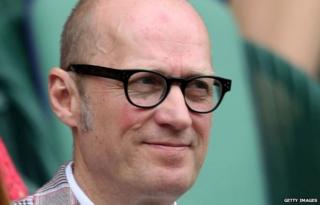 Actor Ade Edmondson will star alongside Lily James, best known as Downton Abbey's Lady Rose, in a BBC adaptation of Leo Tolstoy's War and Peace.
Edmondson, 57, will play Count Rostov, who accumulates debts through extravagant living, squandering his four children's inheritance.
James will play his charming and lively daughter in the BBC One drama series.
Greta Scacchi, known for the movie White Mischief and TV's Brideshead Revisited, is to play the count's wife.
Paul Dano, who starred opposite Daniel Day-Lewis in There Will Be Blood, has landed the part of Pierre Bezukhov, a social misfit son of a Russian grandee whose unexpected inheritance transforms his fortunes.
And James Norton, best known for Happy Valley and Grantchester, will play Prince Andrei Bolkonsky, a stern, old-fashioned recluse.
The 19th-Century epic literary classic has been adapted by screenwriter Andrew Davies, who also turned novels Vanity Fair and Pride And Prejudice into hit dramas for TV.
He said: "When I came to War And Peace for the first time, rather late in life, I was struck by how fresh and modern the characters and relationships felt.
"It's a story of the hopes and dreams of youth, set against the titanic background of the Napoleonic wars.
"Three characters [are] at the centre: Pierre, the bumbling, chaotic idealist; Prince Andrei, whose cool Darcy-like exterior conceals huge emotional conflict; and Natasha Rostova, possibly the most appealing heroine in literature.
"These three are surrounded by a gallery of unforgettable characters - we get love, friendship, huge swings of fortune, betrayals, tragedy, and a surprising amount of comedy too."
Hollywood executive Harvey Weinstein is producing the series with the BBC.
He said: "I fell in love with Tolstoy's War And Peace as a teenager when I read it for the first time.
"Putting an epic, iconic story like War And Peace on screen with a cast of this calibre is an incredible thrill.
"Lily, Paul and James are all amazingly talented actors and it takes their level of talent to capture the scale of Tolstoy's words. We are excited to get under way with Andrew Davies and the phenomenal team at BBC."
A transmission date for the drama has not been yet been set.