Joan Collins: Profile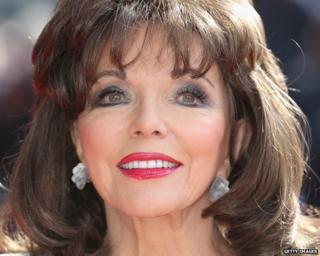 Actress Joan Collins has gone from Rank film starlet to dame in her long and glittering career in the spotlight.
The 81-year-old is renowned for her ageless glamour and dozens of roles including the powerfully bitchy Alexis Carrington in US soap Dynasty, which brought her international fame in the 1980s.
Born in London in 1933 and making her stage debut at the tender age of nine, Collins' road to stardom was paved a long time before her best-known small screen portrayal.
She was the daughter of a Jewish South African-born theatrical agent and made her way into the Royal Academy of Dramatic Art (Rada) at aged 17.
With her brunette locks and pale complexion, Collins was signed up by British film-makers Rank, and spent the first phase of her career as a young star with magnetic looks in a string of British cinema releases.
Her uncredited screen debut was in Lady Godiva Rides Again in 1951 as an entrant to a beauty contest, while Egyptian epic Land of the Pharaohs four years later grabbed her greater attention.
Collins' screen presence was noted, and later in the 1950s she landed a contract which took her to the bright lights of Hollywood, turning in performances alongside the likes of Paul Newman and Bing Crosby.
She won some recognition for her screen turns, but they were never likely to put her in contention for awards.
The actress's personal life became a bigger attraction for the tabloids over her decades in the limelight thanks to her five marriages, including to actor and singer Anthony Newley in the 1960s.
She took time out of her career to have two children with him, while starring in his ill-fated sexual romp Can Hieronymus Merkin Ever Forget Mercy Humppe and Find True Happiness? failed to bring the plaudits pouring in.
The dawn of the 1970s saw Collins' Hollywood star wane, appearing in a string of TV movies and making guest turns in shows including Space 1999, Starsky and Hutch and Tales of the Unexpected.
She also appeared in a memorable series of adverts with actor Leonard Rossiter which led to an alcoholic drenching on every occasion.
The galloping success of her raunchy novelist younger sister, Jackie, rubbed off on Joan during the decade, with vampish star turns in her blockbusters The Bitch and The Stud. They kept Collins on the map but were not critically applauded.
Speaking of her less than smooth career and personal life much later, Collins said: "I've had my share of hard knocks, but who said life was a bowl of cherries? More like a bowl of cherry pits."
But it was in 1981 that Collins landed arguably the role of her career, reportedly after superstars Sophia Loren and Elizabeth Taylor had knocked it back.
US soap Dynasty was flagging in its second season, and Collins' arrival as arch-schemer Alexis Carrington Colby, dripping in furs and with her champagne and caviar lifestyle, helped to turn the series into a huge hit.
It was her bitter rivalry with her ex-husband's new wife Crystal - often leading to messy catfights - that drew audiences to the saga of power and shoulder-padded intrigue.
The role secured six Golden Globe nominations for the actress, and a precious win in 1983.
Collins became the highest-paid star on the show along with John Forsythe, but was absent from a number of the final season's episodes as producers could not afford her fee, which she later branded "appalling".
The soap came to a protracted end in 1989, while the cast - including Collins - reunited two years later to tie up a number of loose plotlines.
In the 1990s, Collins took up the pen like her younger sister, writing a series of memoirs, novels and glamour guides. It involved a legal wrangle with publishing house Random House in which she was accused of breaching her contract. The courts found in Collins' favour.
She also returned to the stage in Private Lives on both Broadway and the West End, and in recent years has staged a series of one-woman shows looking back on her life and experiences.
While she remains an instantly recognisable figure, her later screen work has been a clutch of memorable appearances in TV shows such as Hotel Babylon, Footballers' Wives and Benidorm and never repeated the highs of Dynasty.
She was made an OBE in the 1997 honours list in recognition of her work in the arts and for charity.
Collins' charity work - which gains her an appointment as a DBE - extends to the support of children with learning disabilities, the NSPCC and breast cancer research. She also acts as honorary president of Rada Associates, a nod to where her career was fostered in the early days.
The octogenarian maintains a reputation for a look which never seems to falter and her much younger husband of more than a decade - which she says is partly responsible for her energy and evergreen appearance.
Her mantra is: "Lots of laughter, hard work, never get too thin or too fat and a husband 32 years younger."