Arrest warrant issued for Kidulthood star Adam Deacon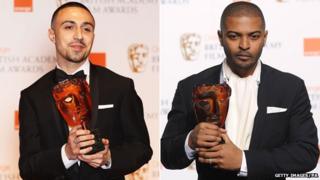 A warrant has been issued for the arrest of Kidulthood actor Adam Deacon after he failed to appear in court in London to answer a charge of harassment.
The 31-year-old is accused of posting abusive and threatening messages on social media relating to Doctor Who actor Noel Clarke, writer of Kidulthood and director of its sequel Adulthood.
Deacon was due to appear earlier at a magistrates' court in west London.
The arrest warrant was issued when he failed to appear.
Deacon, from Bethnal Green in east London, is accused of one count of harassment without violence between 5 March and 19 December last year.
The actor and rapper played firearms officer Robbie in Channel 4's police drama Babylon and appeared in Kidulthood and Adulthood alongside Clarke.
Deacon went on to co-direct and star in the 2011 British urban comedy Anuvahood.
Both actors have received the Bafta Rising Star Award - Clarke in 2009, and Deacon in 2012.