Francois Hollande 'revenge memoir' headed for big screen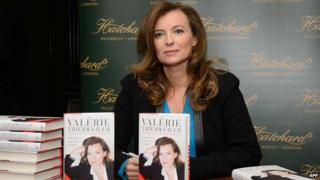 A bestselling "revenge memoir" by France's former First Lady about her six-year relationship with president Francois Hollande is to become a film.
According to the film's producer Saida Jawad, she and Valerie Trierweiler were "looking at co-productions with French and international companies".
Merci Pour le Moment (Thank You for the Moment) was published in September and has been translated into 12 languages.
"I guarantee that you will discover new things," Jawad told a French magazine.
Hollande separated from Ms Trierweiler, his official partner, last year following reports of his affair with the actress Julie Gayet.
Ms Trierweiler, a journalist who works for the French magazine Paris Match, spent a week in hospital after the affair was made public in the gossip magazine Closer.
Holland faced withering criticism in his ex-partner's book, which painted the Socialist president as a callous man who dislikes the poor.
According to an interview with celebrity journal Gala, however, Jawad is "not looking to make a controversial film".
"I just want to tell the story of the fight of a woman in love, even if the story is exceptional because the man she loves is the president," she is quoted as saying.
Speaking to the BBC's Sophie Raworth in November, Valerie Trierweiler denied her book had been motivated by revenge, claiming instead she was trying to "rebuild" herself.
She said she hoped the book would give Holland "a jolt" and "help him to see the mistakes he has made and those he should stop making".