Bill Cosby faces rape heckle in Canada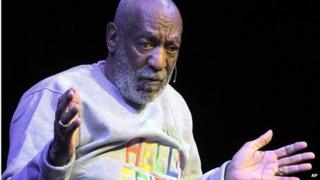 Bill Cosby was heckled by a man who shouted "you are a rapist" during a show in London, Ontario.
The comedian, who has been accused of sexual assault by a number of women, shrugged off the interruption.
"It's OK. Stay calm. Don't applaud," he told the crowd as security officers ejected the heckler.
According to CBC journalist Kerry McKee, who was at the concert, the show continued without further disturbance and ended with a standing ovation.
Several fans shouted "we love you, Bill," as Cosby left the stage.
However, McKee noted there were several empty seats at the auditorium.
He added that the comedian was "clearly ready to handle outburst or hecklers in audience" and that "a dozen security flank sides of stage" at the Budweiser Gardens venue.
Walk-out
Before being heckled, the comedian had apparently alluded to the allegations against him, many of which accuse Cosby of spiking women's drinks before assaulting them.
As one female audience member got up from a front row and walked past the stage, Cosby asked where she was going.
When she answered that she was going to the lobby to grab a drink Cosby responded: "You have to be careful about drinking around me."
The remark was met with loud applause, although McKee said a woman walked out.
Cosby later addressed the heckling - the first at a show since the allegations surfaced - in a statement.
"Dear Fans: One outburst but over 2,600 loyal, patient and courageous fans enjoyed the most wonderful medicine that exist for human-kind. Laughter.
"I thank you, the theatre staff (Budweiser Gardens), the event organisers and the London, ON Community for your continued honour and support. I'm far from finished."
The 77-year-old is also scheduled to appear at Canada's Hamilton Place Theatre in Hamilton on Friday and throughout the US over the next few months.
He has been accused by at least 15 women of sexual assault dating back to the '70s and '80s. Three more victims came forward on Wednesday.
Cosby's lawyer made no immediate response to the latest accusations.
The star, who has not been charged, has denied previous claims, calling them "fantastical" and "uncorroborated".