Baftas 2015: shocks, snubs and surprises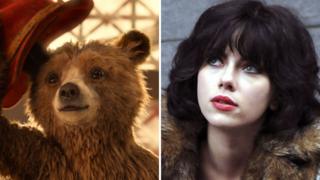 This year's Baftas see a marmalade-loving bear rubbing his furry shoulders with an alien vampire in the best British film category. What other surprises and shocks did this year's nominations have in store?
What a difference a year makes.
Last year 3D space thriller Gravity led the Bafta field with 11 nominations. Twelve months on the same goes for Wes Anderson's farce The Grand Budapest Hotel - a star-studded adventure set in a famous European hotel between the wars.
It's a good year for comedy - albeit of a dark and quirky nature - as Alejandro G Inarritu's surreal drama Birdman, starring Michael Keaton as a former superhero actor trying to resurrect his career, notches up 10 nominations.
Pioneering British scientists have also proved popular. The Theory of Everything appears in 10 categories, with Eddie Redmayne and Felicity Jones on the lead acting shortlists for their respective roles as physicist Stephen Hawking and his wife Jane.
And there were nine nods for The Imitation Game - with Benedict Cumberbatch getting a best actor nomination for his role as code-breaker Alan Turing, while co-star Keira Knightley - who plays his Bletchley Park colleague Joan Clarke - is up for best supporting actress.
Predictably both Theory of Everything and Imitation Game are up for outstanding British film.
The rest of the shortlist is wonderfully diverse with Paddington bear sharing the shortlist with Scarlett Johansson's sexy extra-terrestrial in arthouse shocker Under The Skin.
The list is completed by Pride, about gay and lesbian activists who supported striking miners in the 1980s, and '71, the debut feature film by French director Yann Demange, with Jack O'Connell as a teenage soldier in Northern Ireland.
O'Connell has just made his Hollywood breakthrough in Angelina Jolie's WW2 epic Unbroken, but having been much talked up as a potential awards contender in the months before its release the film received a complete snub at the Baftas, in a repeat of what happened at the Golden Globes.
O'Connell can console himself with a nomination as this year's Bafta rising star.
Also snubbed was civil rights drama Selma, about the marches led by Dr Martin Luther King Jr (David Oyelowo) in Alabama amid fierce opposition as he tried to secure the right of African Americans to vote freely.
Perhaps the biggest shock of the Baftas is that Mike Leigh's Mr Turner failed to make the shortlist of outstanding British films.
And Timothy Spall's performance as artist JMW Turner - which won him best actor prize at the Cannes Film Festival - didn't get an acting nomination.
There were some surprises too.
Steve Carell, who is considered a contender for best actor when the Oscar nominations are revealed next week, turns up in the supporting actor category at the Baftas alongside co-star Mark Ruffalo.
Last year's Oscar-winning documentary, 20 Feet from Stardom, turns up at the Baftas this year (due to its later UK release date), where it is up against this year's Oscar frontrunner, Citizenfour.
Amy Adams is back at the Baftas this year with a lead actress nomination for her role in Tim Burton's Big Eyes - the true story of a bizarre art fraud case in 1960s America.
It's her fifth Bafta nomination, with her last such nod being for last year's crime caper American Hustle.
Theory of Everything's director James Marsh will be hoping his Stephen Hawking drama repeats the success of his 2009 outstanding British film winner Man on Wire.
Other nominees hoping for another Bafta win include Reese Witherspoon, who won leading actress for 2006's Walk the Line, and who is back in the same category this year for Wild, in which she plays a young woman on a gruelling 1,100-mile hike.
What does it all mean for the Oscars?
For the past six years the best film winner chosen by British Academy voters has gone on to win an Oscar. Last year it was 12 Years a Slave, and before that Argo, The Artist, The King's Speech, The Hurt Locker and Slumdog Millionaire.
But the Baftas are by no means a reliable mirror of what might happen at Hollywood's Dolby Theatre on 22 February.
Last year, Bafta voters didn't even nominate Dallas Buyers Club's Matthew McConaughey and Jared Leto, both of whom went on to win Oscars.
The Golden Globes take place on Sunday, while the Oscar nominations are on Thursday.
But one thing is clear: On both side of the Atlantic, Richard Linklater's Boyhood, a coming-of-age drama that took 12 years to make, seems to be the one to beat.
The Bafta winners will be announced at London's Royal Opera House on 8 February.