La Dolce Vita star Anita Ekberg dies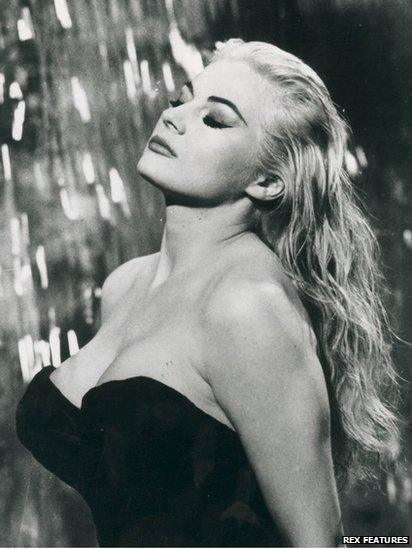 Anita Ekberg, star of La Dolce Vita, has died aged 83.
A former Miss Sweden, she was branded a "sex goddess" for her performance in Federico Fellini's 1960 movie.
The moment where she wades through Rome's Trevi Fountain in a strapless dress is considered one of cinema's most iconic scenes.
Ekberg died in Rome on Sunday morning, her lawyer confirmed. She had been in hospital since Christmas following a series of illnesses.
The actress had been in a wheelchair for several years after being knocked down by one of her pet Great Danes, breaking a hip.
Born in Malmo, Sweden, in 1931, Ekberg was the sixth of eight children.
She said her father, a harbour master and a strict Protestant, was "the apple of my eye", although she later fell out with all but one of her siblings.
After winning the Miss Sweden title at the age of 20, she travelled to America where she took part in the Miss Universe contest.
Although she didn't win and spoke very little English, she was immediately signed to a contract by Universal Pictures.
The studio sent her to work in Italy, where she played Henry Fonda's unfaithful wife in King Vidor's War and Peace (1956).
It was in Rome that she met director Federico Fellini, who cast her in La Dolce Vita as Sylvia Rank - "the most wonderful woman created since the beginning of time" - an actress pursued by news photographers.
The famous scene in the Trevi Fountain saw Ekberg and her co-star Marcello Mastroianni wading through the chilled waters in sensual abandon.
The sight of the water caressing her impossibly voluptuous body was shocking for audiences in the 1950s.
The Vatican condemned it, but the famously sharp-tongued actress was unrepentant.
"I'm very proud of my breasts, as every woman should be," she once said.
"It's not cellular obesity, it's womanliness."
The fountain scene was shot on a chilly March morning in central Rome.
"I was freezing,'' said Ekberg. "They had to lift me out of the water because I couldn't feel my legs anymore."
Her co-star, Marcello Mastroianni, found the scene even more difficult, despite the luxury of a wetsuit under his clothes. He needed his acting resolve stiffened by an entire bottle of vodka, Fellini claimed. More than once, he fell over drunk in the freezing water.
"I have seen that scene a few times. Maybe too many times," Ekberg told Swedish radio in 2005.
"I can't stand watching it anymore, but it was beautiful at the time."
Considering that La Dolce Vita gave rise to the term paparazzo, it was ironic that the movie resulted in Ekberg being hounded by the press herself.
She was constantly in the headlines for her romances with Hollywood's leading men, and her lovers were said to include Errol Flynn, Yul Brynner and Frank Sinatra.
But she also made the front pages when, in 1960, she turned on photographer Felice Quinto with a bow and arrow.
Quinto was amongst a pack of reporters who followed her from a nightclub to her villa in Rome. During the fracas, she was photographed with her knee in one man's groin.
The actress was "furious", Quinto later reported.
At 24, Ekberg married British actor Anthony Steel in Florence, Italy.
The police were called in to control the crowds who were trying to get a glimpse of the couple, but the marriage was doomed by Steel's heavy drinking.
"Right from the start he'd go out somewhere and not come home till the next morning," Ekberg told Sydney's Daily Telegraph in 2000.
"On the third night I came home to find him swinging from the lights like an ape, smashed out of his mind.
"Because he was jealous he was always picking fights with any man who approached me and the last time we met he borrowed $100,000 from me which he never paid back."
The couple divorced in 1959. Four years later, Ekberg married Rik Van Nutter, who played CIA agent Felix Leiter in the Bond film Thunderball. That union also ended in divorce in 1975.
Alongside La Dolce Vita, Ekberg also appeared as a foil in Bob Hope's comedies Paris Holiday (1957) and Call Me Bwana (1963). Her other roles included Blood Alley (1955) and Hollywood or Bust (1956).
Fellini cast her again in his section of the portmanteau comedy Boccaccio '70 (1962), where she played a 20ft version of herself with plunging cleavage, stepping down from an advertising hoarding to stalk a prudish doctor.
But the actress's popularity was not enduring.
By the late 1970s, Ekberg had virtually disappeared from the screen, making only rare appearances in forgettable European films, although she appeared as herself in Fellini's 1987 cinematic memorybook Intervista.
According to several reports, the actress was almost penniless at the time of her death. She had been robbed of jewellery and furniture and her villa was badly damaged in a fire, forcing her to move, temporarily, into a care home.
However, she continued to work, and opened a Fellini exhibition in Amsterdam in July 2013.
Her lawyer Patrizia Ubaldi said that, in her last days. Ekberg was saddened by her illnesses and her advancing age.
"She had hoped to get better, something that didn't happen," she said.
But in an earlier interview, Ekberg had said she was not afraid of death.
"I don't know if paradise or hell exist," she told Sweden's Aftonbladet, "but I'm sure hell is more groovy."