The Hobbit overtaken by Taken 3 at US box office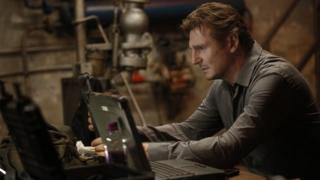 The Hobbit has been overtaken by Taken 3 at the top of the North American box office chart after spending three weeks in the top spot.
Liam Neeson's thriller sequel took $40.4m (£26.6m) over the weekend, according to studio estimates.
Civil rights drama Selma came second with $11.2m (£7.4m). Disney's Into the Woods was third with $9.7m (£6.4m).
The Hobbit: The Battle of the Five Armies dropped from first to fourth place, earning $9.4m (£6.2m).
The Taken franchise has seen Neeson, 62, become one of Hollywood's most successful action heroes.
He plays a former CIA agent Bryan Mills, who has the famous line: "I will look for you, I will find you and I will kill you."
The original Taken opened in 2009 with first weekend receipts of $24.7m, while Taken 2 debuted in 2012 with $49.5m.
"For Neeson to be at this stage in his career and be considered one of the premier action heroes is certainly unexpected, but it's really cool and lucrative," Paul Dergarabedian, analyst at box-office tracker Rentrak, told the Associated Press news agency.