Golden Globe ratings dip after 2014 high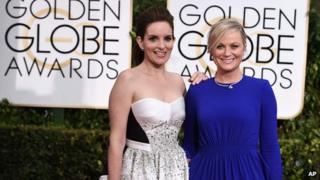 Sunday's Golden Globe Awards ceremony was watched by 19.3 million people in the US, down 8% on last year's audience of 20.9 million.
According to Nielsen Media Research, viewer ratings also fell in the 18-49 age bracket, the group which advertisers are most keen to attract.
The 72nd awards ceremony, hosted by comedians Tina Fey and Amy Poehler for the third and final time, was on NBC.
The pair drew 19.7 million viewers when they first hosted the show in 2013.
Last year's 20.9 million was a 10-year high for the Golden Globes.
This year, on top of the TV ratings, the hosts' opening monologue - which made several close-to-the-knuckle jokes about Bill Cosby - has racked up 3.5 million views on YouTube.
Fey and Poehler took over the reins from British comedian Ricky Gervais, who hosted the Globes from 2010 to 2012.
A total of 16.8 million people watched his final outing three years ago.
Fey and Poehler both found fame on Saturday Night Live. Fey went on to create and star in hit US sitcom 30 Rock and her new show, Unbreakable Kimmy Schmidt, is due to air in March this year.
Poehler stars as Leslie Knope in comedy series Parks and Recreation.
Richard Linklater's coming-of-age film Boyhood took the top honours at this year's Golden Globes.
The movie, which took 12 years to make, won best film drama, with Linklater named best director and Patricia Arquette best supporting actress.
British actor Eddie Redmayne won best actor in a drama for his role as physicist Professor Stephen Hawking in The Theory of Everything.
British actresses Joanne Froggatt and Ruth Wilson also collected prizes.
The organisers of the Oscars will have paid particular attention to the Globes' viewing figures.
Last week, a memo obtained by The Hollywood Reporter revealed they were concerned about their own ratings in a year where nominations were likely to "focus on art films rather than major blockbusters that have mass appeal".
This year's Oscar nominations are due to be revealed on Thursday.