Diana play 'clunky' and 'clueless', say reviewers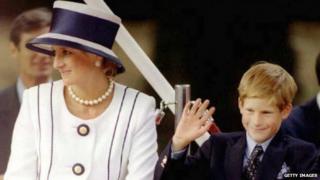 A controversial new play about Princess Diana's death has been called "patchy", "confused" and "clueless" by reviewers.
Jon Conway's "docu-play" Truth, Lies, Diana, writes Dominic Maxwell in The Times, is "sincere [and] extensively researched yet ultimately botched".
The Independent called it "well-meant but clunky" and described its mix of fact and fiction as "self-defeating".
The play made headlines last year amid claims it cast doubt on the parentage of Prince Harry.
It was reported that the play claimed James Hewitt was the prince's father, reports its author subsequently denied.
But the play does show Hewitt admitting he knew Diana more than a year before Harry's birth in 1984, contradicting his earlier assertions that he met her when Harry was a toddler.
Conway, who appears in the play as a writer investigating Diana's 1997 death, dramatises excerpts of an interview he conducted with Hewitt in which the latter declines to confirm if he is the prince's father.
"There's no explicit suggestion that he is Prince Harry's father, but these few asides will serve to keep the rumour-mill going," wrote the Telegraph's Dominic Cavendish.
The play also draws on interviews with Mohamed Al Fayed and former Royal butler Paul Burrell as well as the official Diana inquest.
According to the Independent's Paul Taylor, however, Conway's "strategy" of including fictional elements within the narrative "backfires".
"You'd be much more likely to weigh the claims" the piece makes, the reviewer suggests, "if the personality of the investigator were not itself an additional problem".
"This should be a piece of verbatim theatre," writes his counterpart in The Times. "Instead Conway stretches the patience by fictionalising (clunkily) his own discovery" of information relating to Diana's fatal car crash.
"We are told that everything on stage really happened," Dominic Maxwell continues. "But them we see conversations between sinister figures that Conway wasn't present at."
Conway, the writer concludes, "needs to be far more rigorous if this show isn't just to play to the already converted."
The Telegraph's reviewer, however, is more generous, insisting its "heart is in the right place".
Truth, Lies, Diana continues at London's Charing Cross theatre until 14 February.