Elbow return to Manchester roots for War Child gig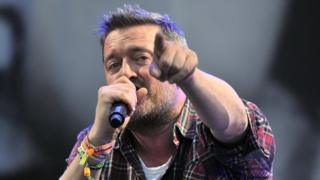 Rock band Elbow are to return to the tiny Manchester club where they worked behind the bar before they were famous.
Most members of Elbow worked at the 200-capacity Roadhouse in the 1990s.
The gig is part of a series of intimate charity shows for War Child, which will also see Duran Duran, Bastille, The Vaccines, You Me At Six and Ride play in London.
Tickets for the Passport Back To The Bars gigs, which will take place next month, will be available via a lottery.
Each entry costs £4.50. Of that, at least £4.15 will go to the charity, which helps children in war zones.
Living room gig
The Vaccines will return to the 150-capacity Dublin Castle pub in Camden, the site of their first London gig, while Duran Duran will appear at the historic 250-capacity Wilton's Music Hall.
Bastille's show will take place in one north London fan's living room. The show has been set up by Sofar Sounds, which puts on gigs in homes.
The shows come a decade after War Child organised its first season of intimate gigs, during which Elbow played in Liverpool.
Guy Garvey, singer with the Mercury Prize-winning band, said: "The work that War Child continues to do throughout the world is truly humbling.
"We were part of the original Passport shows, and to be able to participate again on its 10th anniversary is amazing. To return to The Roadhouse, our spiritual home in Manchester, just makes it even better."
The line-up is:
The Vaccines - Dublin Castle, London, 16 February
Duran Duran - Wilton's Music Hall, London, 19 February
Ride - 100 Club, London, 19 February
You Me At Six - Hoxton Bar & Kitchen, London, 22 February
Bastille - Sofar Sounds House Party, London, 23 February
Elbow - The Roadhouse, Manchester, 24 February
Ticket details are on the War Child website.