Oscars 2015 analysis: Snubs and surprises - and a dash of jazz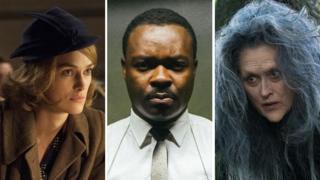 The eight films up for best picture this year are a mix of true stories, family drama, surreal comedy - and a dash of jazz.
Things look very different to last year when the lost-in-space thrills of Gravity led the field. This year's sci-fi hopeful Interstellar missed out on best picture and had to make do with five nominations in technical categories and for Hans Zimmer's score.
By contrast, this year's race is led by dark showbiz satire Birdman and quirky comedy The Grand Budapest Hotel - with nine nominations each.
Half the films that make up the shortlist are based on real lives: American Sniper, which tells the story of US Navy Seal sharpshooter Chris Kyle; The Imitation Game, about war-time code breaker Alan Turing; Stephen Hawking biopic The Theory of Everything; and Selma, about Martin Luther King's civil rights marches in 1965 Alabama.
Coming of age family drama Boyhood, shot over 12 years, was always expected to make the list after its recent triumphs during awards season, and many will celebrate the inclusion of indie hit Whiplash, about a jazz drummer and his terrifying music teacher.
There were some surprises among the acting categories.
Marion Cotillard joins the best actress race for her role as factory worker Sandra in Two Days, One Night. She won the best actress Oscar in 2008 for her performance in La Vie en Rose.
And Laura Dern turned up on the best supporting actress shortlist for her role in Wild, shutting out Nightcrawler's Rene Russo and Jessica Chastain, for A Most Violent Year.
Jennifer Aniston also didn't make the best actress list, despite being heavily tipped for her role as a woman hooked on prescription painkillers in Cake.
Record breakers
Robert Duvall's nomination for best supporting actor in The Judge makes him the oldest Oscar nominee in this category.
At 84, he is two years older than the previous oldest nominee, Hal Holbrook, who was up for Into the Wild in 2008. The oldest winner in this category is Christopher Plummer, who was 82 when he picked up the Oscar for Beginners in 2012.
Oscars 2015
9
Academy Award nominations each for Birdman and The Grand Budapest Hotel
19 nominations for Meryl Streep, more than any other actor or actress in history

3 consecutive acting nominations for Bradley Cooper

2 actors who have played the Hulk, Mark Ruffalo and Ed Norton, are up for best supporting actor
And Meryl Streep's supporting actress nomination for her fairytale witch in musical Into The Woods brings her Oscar tally to 19, extending her reign as most-nominated actress ever.
British cinematographer Roger Deakins (Unbroken) now has the most nominations for cinematography of any living person, amassing 12 nods.
Also nominated in that category is Mexican Emmanuel Lubezki for Birdman, who will be hoping to repeat his win last year for Gravity.
Things were not so awesome for The Lego Movie, which caused one of the biggest shocks by missing out on best animated feature and had to make do with best original song.
Other snubs included Clint Eastwood, who was left out of the best director field for American Sniper - which is up for best picture.
It was a similar story for Selma's director Ava DuVernay, who would have been the first African-American woman nominated in that category. The civil rights drama made the best picture cut, but a best actor nomination for David Oyelowo proved elusive.
The Hollywood Reporter noted for only the second time in nearly two decades, the 20 Oscar acting nominations went to a group made up entirely of white actors and actresses.
There was a strong showing for Brits in the main acting categories with Benedict Cumberbatch, Eddie Redmayne, Rosamund Pike, Felicity Jones and Keira Knightley all in the race.
Films with most nominations
9 - Birdman, The Grand Budapest Hotel
8 - The Imitation Game
6 - American Sniper, Boyhood
5 - Foxcatcher, Interstellar, The Theory of Everything, Whiplash
Elsewhere, two British live action shorts will be making their way to Hollywood next month.
The Phone Call, directed by Mat Kirkby, stars Sally Hawkins and Jim Broadbent in a harrowing story about a helpline call centre volunteer who receives a phone call from a mystery man.
The film was shot in 2013 a week after Hawkins finished filming Woody Allen's Blue Jasmine (for which she was nominated for the best supporting actress Oscar last year). Kirkby sold his car to pay for the film.
In the same category is Boogaloo and Graham, directed by Michael Lennox. Filmed entirely on location in Northern Ireland, the 1970s set film follows two young boys who discover the facts of life, aided by the help of their pet chickens. The short also picked up a Bafta nomination last week.
British biopic Mr Turner won four nominations for music, production design, costume design and cinematography. But - as at the Baftas - there was nothing for Timothy Spall in the lead role as artist JMW Turner, or Mike Leigh's direction.
Britain's best Oscar hope seems to be with Redmayne, as Stephen Hawking in Theory of Everything.
Both Redmayne and Birdman's Michael Keaton won Golden Globes for their roles this week in separate categories.
At the Oscars they will be going head to head.
The Oscars ceremony takes place in Hollywood's Dolby Theatre on 22 February.