Soumission tops book charts in wake of Paris attacks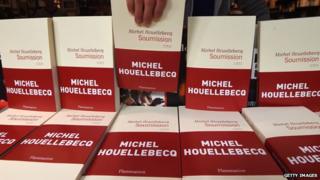 Michel Houellebecq's controversial book Soumission has topped France's bestseller charts in its first week.
The novel was featured on the cover of satirical magazine Charlie Hebdo on 7 January, the same day the publication's Paris office was attacked by gunmen.
Houellebecq's sixth novel imagines France governed by an Islamist party within the next decade.
The book sold 120,000 copies in its first five days and is also top of Amazon's French and German sites.
There are 220,000 copies of the novel in print, according to French trade magazine Livres Hebdo. It will be published in English in September.
Soumission (Submission), which imagines a fictional Muslim Brotherhood party winning the 2022 presidential election in France, sparked controversy with critics calling it Islamophobic.
The 7 January edition of Charlie Hebdo showed a caricature of Houellebecq on its cover and included several pages dedicated to the book.
The novel's publishers, Flammarion, was put under police protection following the Paris attack, in which 12 people were killed.
Houellebecq has a history of provoking public opinion through his novels and moved to Ireland after being accused, and acquitted, of racial hatred.
In 2010, he won the prestigious Goncourt prize for his novel The Map and the Territory, which satirised the modern art world.
His best-known book, 2001's Platform, tackled the issue of sex tourism.