Boyhood adds to awards haul at London Critics' Circle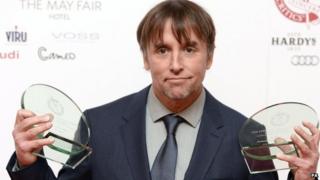 Coming-of-age drama Boyhood has added to its haul of film awards by winning the top prize from the London Critics' Circle.
It was named film of the year, while Richard Linklater won best director and Patricia Arquette best supporting actress.
Linklater, who shot it over 12 years, said: "It's been called an experiment, but it was a leap of faith."
The awards took place at The May Fair Hotel on Sunday night.
The other big success story of the night was Scottish-set sci-fi shocker Under the Skin.
Director Jonathan Glazer collected the award for British film of year and composer Mica Levi accepted the technical achievement award for her creepy score.
Shot around Glasgow, the film stars Scarlett Johansson as a beautiful alien who seduces random humans to harvest their bodies. It is also nominated for best British film at the Baftas next month.
Actress Miranda Richardson picked up a lifetime achievement accolade, the Dilys Powell Award for Excellence in Film, which was presented by Hunger Games star Stanley Tucci.
Richardson. who made her film debut in 1985's Dance with a Stranger, has been nominated for two Oscars - for Damage in 1992 and Tom And Viv in 1994. Her big screen appearances include Harry Potter And The Goblet Of Fire, Made In Dagenham, Empire Of The Sun, The Crying Game and Sleepy Hollow.
"It's a great honour," Richardson said. "I've had the great good fortune to work with many wonderful directors - not enough ladies in the mix as yet, but I'm very optimistic that can change."
The biggest laugh of the evening came when Michael Keaton accepted the actor of the year award for Birdman in a video message at the end of which he proved not to be wearing any trousers.
Timothy Spall was named British actor of the year for his role as the eccentric British painter JMW Turner in Mike Leigh's Mr Turner.
Spall, who won the top acting prize at the Cannes Film Festival in 2014, has caused widespread surprise by not being nominated for this year's Baftas or Oscars.
Speaking on the red carpet on Sunday night he admitted: "I was disappointed, but I didn't expect it."
Boyhood, which won at the Golden Globes a week ago and is tipped to win best picture at the Oscars in five weeks, chronicles the journey from childhood to adulthood of Mason Evans Jr, played by Ellar Coltrane.
It was filmed over short periods from 2002 to 2013.
"Everywhere I go I feel like I'm representing the 450 people who worked on this thing over the years," Linklater told the BBC.
"This film was so much about life that it would only be successful if it connected with people on a personal level which it seems to have done."
Alex Lawther was named young British performer of the year for his role as the young Alan Turing, the computer pioneer and WW2 code-breaker, in The Imitation Game.
The 18-year-old actor said of Turing: "It was wonderful being part of something that was trying to bring his name back to public consciousness."
---
35th LONDON CRITICS' CIRCLE FILM AWARDS WINNERS
FILM OF THE YEAR
Boyhood
FOREIGN-LANGUAGE FILM OF THE YEAR
Leviathan
BRITISH FILM OF THE YEAR
Under the Skin
DOCUMENTARY OF THE YEAR
Citizenfour
ACTOR OF THE YEAR
Michael Keaton - Birdman
ACTRESS OF THE YEAR
Julianne Moore - Still Alice
SUPPORTING ACTOR OF THE YEAR
JK Simmons - Whiplash
SUPPORTING ACTRESS OF THE YEAR
Patricia Arquette - Boyhood
BRITISH ACTOR OF THE YEAR
Timothy Spall - Mr Turner
BRITISH ACTRESS OF THE YEAR
Rosamund Pike - Gone Girl (Fox) & What We Did on Our Holiday
YOUNG BRITISH PERFORMER OF THE YEAR
Alex Lawther - The Imitation Game
DIRECTOR OF THE YEAR
Richard Linklater - Boyhood
SCREENWRITER OF THE YEAR
Wes Anderson - The Grand Budapest Hotel
BREAKTHROUGH BRITISH FILMMAKER
Yann Demange - '71
TECHNICAL ACHIEVEMENT AWARD
Under the Skin - Mica Levi, score
DILYS POWELL AWARD FOR EXCELLENCE IN FILM
Miranda Richardson