Anne Kirkbride: Coronation Street star's life of drama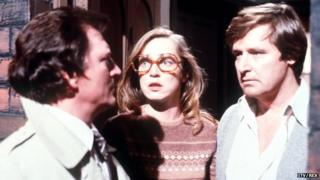 When Anne Kirkbride got the role as Deirdre Hunt in Coronation Street at the age of 17, it was only supposed to be for one episode. But she was to stay for 42 years and become one of the best-loved stars on British TV.
Kirkbride, who has died at the age of 60, was at the centre of some of the soap's biggest storylines. But she was uncomfortable with fame and, in real life, struggled with illness and depression.
On screen, instantly recognisable with her trademark glasses, Deirdre was the wife and mother who gathered public goodwill as she navigated domestic drama after domestic drama.
Viewers were so engrossed in her trials and tribulations that, after she became entwined in a love triangle with Ken and Mike in 1983, an update was relayed on the scoreboard during half-time at a Manchester United match.
And when she was wrongfully imprisoned in 1998, then-Prime Minister Tony Blair jokingly promised to review the case and newspapers distributed "Free Deirdre" stickers and T-shirts.
It all began when Kirkbride, who had been an actress and assistant stage manager at Oldham Rep, landed a role in a one-off Granada TV comedy-drama in 1972.
Coronation Street producers spotted her and recruited her for the soap, which had been an ITV mainstay for 12 years and was actively looking for new, young female characters to complement the likes of Ena Sharples, Minnie Caldwell, Annie Walker, Hilda Ogden and the recently married Elsie Howard.
In her first episode, she was a customer in the Rovers Return, and she later returned as builder Ray Langton's feisty secretary.
She went on to become his wife - the first of Deirdre's four marriages. It ended when Deirdre dramatically decided at the last moment not to emigrate to Holland with Ray and their baby daughter Tracy.
Ken Barlow came next for the now single mother. Weatherfield's first couple wed in the same week as Prince Charles and Princess Diana in 1981, and were not far behind in the TV ratings.
Deirdre's drama reached a climax two years later when she had an affair with Mike Baldwin. The storyline provided the soap with one of its landmark scenes when Ken, played by William Roache, grabbed Deirdre by the throat.
In order to make her reaction realistic, Roache deliberately did not prepare Kirkbride for the viciousness of his attack.
"Bill Roache suddenly had me by the throat and up against the wall and I was literally fighting to get away from him," the actress said.
When Deirdre announced she was staying with Ken, messages flashed up on the Old Trafford scoreboard when Manchester United played Arsenal, reading "Ken and Deirdre reunited!" and "Ken 1 - Mike 0!"
But soap life never ran smoothly for the residents of 1 Coronation Street and Deirdre divorced Ken seven years later after his affair with his secretary Wendy Crozier.
She found happiness - or so she thought - after marrying Moroccan waiter Samir Rachid after meeting him on an African holiday.
But after Samir was mugged and died, Deirdre got together with conman Jon Lindsay, who framed her for fraud. Her subsequent trial and imprisonment in 1998 incensed viewers and led to the high-profile "Free the Weatherfield One" campaign.
Deirdre reunited with Ken the following year and the couple remarried in 2005.
In real life, Kirkbride married another of her Corrie co-stars. She met David Beckett after he appeared as an odd-job man who saved Deirdre's daughter Tracy from a chip pan fire in 1991.
Kirkbride said she enjoyed acting but was less comfortable with the fame it brought. "I'm not very good at being a star, I don't handle it very well. I'm really a quiet, private person," she said.
'Frightening' depression
Personal trauma visited Kirkbride when, at the age of 39, the actress found a lump on her neck on the day of her mother's funeral in 1993.
It turned out to be non-Hodgkins lymphoma, a form of cancer, which required several months away from the soap. It was treatable and she got the all-clear.
But she later spoke about the depression that afflicted her in the subsequent years.
"It was worse than the cancer in a way, because that was going to be over," she said. "I knew that was bad, but I knew at the end of it I was going to be better. But this, this was just so frightening."
On screen, Deirdre and Ken remained together - with a few ups and downs - and Kirkbride was one of the cast members who supported William Roache when he went on trial for rape in 2014.
Roache was "always a perfect gentleman", she told the court. He was cleared.
On the 40th anniversary of her arrival on the soap in 2012, the actress spoke about her fondness for her co-stars but also the "punishing" and "soul-destroying" filming schedule.
She said she might have become a cleaner if she had not got her big break in acting - and revealed how she even occasionally cleaned the Granada toilets to relieve the boredom between scenes.
Asked about her acting career by the Daily Mirror in 2001, she said: "Sometimes I think I should have made more of an effort to get out and do other stuff, but then again I've never been terribly ambitious.
"I've never had any desire to chase this part or that, or do Shakespeare. So coming into the Street was perfect for me.
"Although it's only one part, you get to play a fantastic range of emotions, from comedy to tragedy to everyday stuff."