World's first 'mindfulness opera' launched by Barbican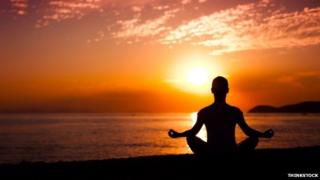 The world's first "mindfulness opera" will feature silence, yoga, communal eating and even washing up when it is launched by the Barbican in September.
The four-hour show Lost in Thought will take audiences on "an inner journey of mindfulness" based on an extended meditation, including periods of rest.
Performers including mezzo-soprano Lore Lixenberg will mingle with the audience as they lead the interactive opera.
Composer Rolf Hind has created both the concept and Buddhism-inspired music.
He is hoping the immersive musical performance will counteract the "critical mind" which people often apply to a show or concert, as well as the usual barriers between the audience and the performers.
The audience will be asked to be completely silent but will be taking part in a "gentle yoga session", as well as sitting and eating vegan food together.
Doing the washing up afterwards - during a section of "communal performance" - is also a vital part of the show, directed by Frederic Wake-Walker.
Seven musicians will accompany singer Lixenberg and the audience on their "mindfulness journey" at LSO St Luke's in London from 25-27 September.
Composer Hind says his music will explore the points of contact between sound and silence and music and mediation.
He was responsible for introducing mindfulness meditation practice at the Guildhall School of Music and Drama, where he is involved in research into its relationship to the arts and performing artists.
The show's world premiere has been announced as part of the Barbican's classical music season for 2015-16.
Other highlights include soprano Renee Fleming and international orchestral residencies from the Los Angeles Philharmonic, The Gewandhaus Orchestra, Leipzig and Bach Collegium Japan.