Manchester theatre stars nominated for awards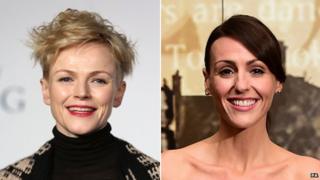 Actresses Maxine Peake and Suranne Jones will go head-to-head at this year's Manchester Theatre Awards, after both being nominated for gender-swapping performances.
Peake played a female Hamlet at the Royal Exchange, while Jones starred in the same theatre's adaptation of Virginia Woolf's novel Orlando.
Other stars on the list include Robert Lindsay, for his role in Dirty Rotten Scoundrels at Manchester's Opera House.
The winners are announced on 13 March.
A panel of 11 of the region's leading theatre critics has selected the nominees, which include several productions at Bolton's Octagon Theatre and The Lowry in Salford.
Here are the main nominees:
Best Actor
Rob Edwards - Duet for One and Separation, at the Octagon Theatre, Bolton
Michael Hugo - Around the World in 80 Days, at the Royal Exchange
Harry McEntire - Billy Liar, at the Royal Exchange
Dan Parr - Britannia Waves the Rules, at the Royal Exchange
Michael Shelford - Early One Morning, at the Octagon Theatre, Bolton
Best Actress
Clare Foster - Duet for One and Separation, at the Octagon Theatre, Bolton
Natalie Grady - Hobson's Choice, at the Octagon Theatre, Bolton
Suranne Jones - Orlando, at the Royal Exchange
Maxine Peake - Hamlet, at the Royal Exchange
Lauren Samuels - Love Story, at the Octagon Theatre, Bolton
Best Actor in a Supporting Role
David Birrell - Journey's End, at the Octagon Theatre, Bolton
Colin Connor - Early One Morning, at the Octagon Theatre, Bolton
Daragh O'Malley - Cat on a Hot Tin Roof, at the Royal Exchange
Michael Shelford - Hobson's Choice, at the Octagon Theatre, Bolton
Nuno Silva - Little Shop of Horrors, at the Royal Exchange
Best Actress in a Supporting Role
Claire Benedict - Hamlet, at the Royal Exchange
Gillian Bevan - Hamlet, at the Royal Exchange
Molly Gromadzki - Orlando, at the Royal Exchange
Katie Moore - Billy Liar, at the Royal Exchange
Best Actor in a Visiting Production
Joshua Jenkins - The Curious Incident of the Dog in the Night-Time, at The Lowry
Robert Lindsay - Dirty Rotten Scoundrels, at the Opera House
Cassidy Little - The Two Worlds of Charlie F, at the Opera House
Steven Miller - Shakespeare's Othello, at The Lowry
Antony Sher - Henry IV Parts I and II, at The Lowry
Al Weaver - The Pride, at the Opera House
Best Actress in a Visiting Production
Jane Asher - Moon Tiger, at The Lowry
Emily Butterfield - An August Bank Holiday Lark, at Oldham Coliseum
Lisa Dwan - Not I, Footfalls and Rockaby, at The Lowry
Katherine Kingsley - Dirty Rotten Scoundrels, at the Opera House
Emma Williams - Annie Get Your Gun, at the Opera House
Best Production
Angel Meadow, at Edinburgh Castle, Ancoats
Around the World in 80 Days, at the Royal Exchange
Close the Coalhouse Door, at Oldham Coliseum
Journey's End, at the Octagon Theatre, Bolton
Romeo and Juliet, at Victoria Baths
Separation, at the Octagon Theatre, Bolton
Best Musical
20th Century Boy, at the Opera House
Dirty Rotten Scoundrels, at the Opera House
Jersey Boys, at the Palace Theatre
Little Shop of Horrors, at the Royal Exchange
Love Story, at the Octagon Theatre, Bolton