Brian Blessed collapses on stage - but returns to finish show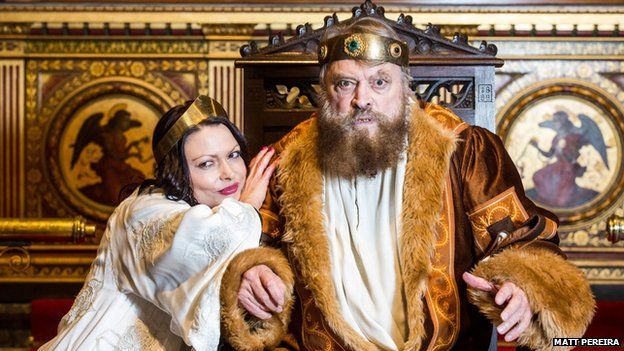 Actor Brian Blessed has collapsed on stage with an apparent heart problem while playing King Lear - but later returned to finish the performance.
The 78-year-old had just started the play at Holy Trinity Church in Guildford, on Monday, when he fainted and fell off a raised platform.
His co-star Noel White, playing the Earl of Kent, said: "This is not part of the play," and asked for a doctor.
After being assessed by a surgeon, the star completed the show.
Walking back on stage after 20 minutes and a cup of sweet tea, Blessed said: "I feel such an idiot and am not in the habit of doing this, but I have a little fibrillation."
Daily Mail theatre critic Quentin Letts was at the performance, and said it was "far from clear he would be able to continue and his fellow actors looked terribly worried about him".
He wrote: "But there was no stopping him. 'Let's keep going!' I heard him whisper as he made his first exit after the resumed start."
Guildford Shakespeare Company director Caroline Devlin said: "Brian was an inspirational wonder. He had a small heart operation three years ago.
"We are not entirely sure why he became so dizzy but he is a 20 year old in a 78 year old's body. There was no stopping him."
The actor returned to the stage without problem for Tuesday night's performance, and will appear for the rest of the show's sold-out run.
Speaking to What's On Stage before the production began, Blessed had stressed that the role of King Lear required "colossal energy levels".
"I think a big mistake with playing King Lear is to make him too senile," he said. "Mine is much more powerful, I hope, even a touch of Genghis Khan.
"The man is a majestic, powerful creature with great energy. He has a slight heart problem, I think, and is prone to mental storms.
"But the main thing is that it must gallop apace; I've been to productions that last five and half hours, and that is not on."
Known for his booming voice and gregarious manner, Blessed found fame in BBC TV series Z-Cars and later went on to star in Flash Gordon and Kenneth Branagh's Much Ado About Nothing.
Related Internet Links
The BBC is not responsible for the content of external sites.