The Interview to be shown on Netflix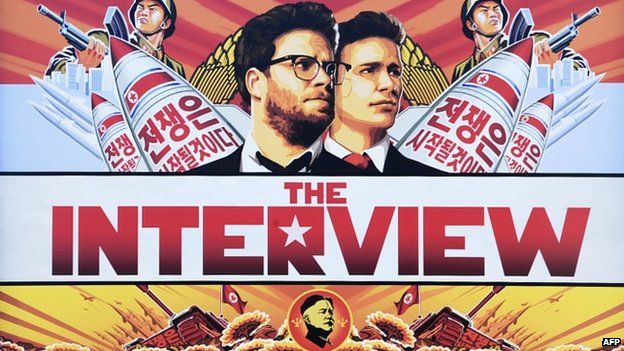 The Interview, the film at the centre of the recent Sony hacking controversy, will be made available on Netflix in North America this weekend.
The comedy, which is based on a fictional plot to kill North Korea's leader, was pulled from major cinemas in December after threats from hackers.
But it was screened by some smaller cinemas and digital services.
Netflix said it was now "thrilled" to offer the film on its streaming service in the US and Canada.
Details of whether it will be available on Netflix in other countries are currently unknown.
"We are thrilled to offer exclusively the controversial comedy, The Interview, to our US and Canadian members beginning this Saturday 24 January - just thirty days after it debuted in theaters and pay-per-view," it said.
The film, which stars James Franco and Seth Rogen as a TV host and producer who are recruited by the CIA to assassinate Kim Jong-Un, has since earned about $40m (£26m) from various digital platforms.
The movie has also earned about $6m (£3.9m) in ticket sales at independent cinemas.
Netflix's decision to stream the movie comes a month after it was launched through online services including Google Play and YouTube Movies.
Sony Pictures originally pulled the film after suffering an unprecedented hacking attack by a group calling itself the Guardians of Peace.
The group threatened terrorist-style attacks on cinemas showing the film on its scheduled release date of 25 December 2014.
The US Federal Bureau of Investigation (FBI) said its analysis pointed the finger at North Korea. North Korea denied being behind the attack but described it as a "righteous deed".
Related Internet Links
The BBC is not responsible for the content of external sites.