Bjork rushes out new album Vulnicura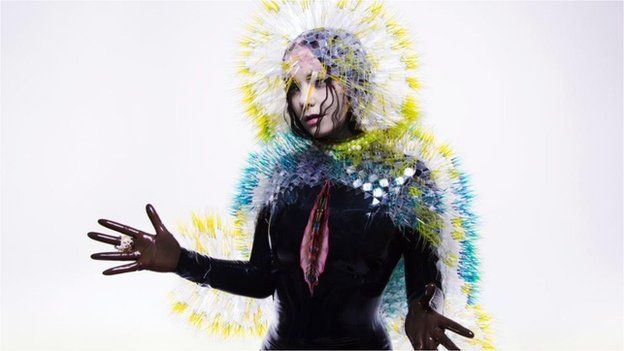 Bjork has rushed her eighth album Vulnicura onto iTunes, days after the music leaked online.
The album's release was intended to accompany a retrospective of the Icelandic musician's career at New York's Museum of Modern Art in March.
But after the record appeared on file-sharing sites last weekend, the star decided to put it on sale immediately.
"I am so grateful you are still interested in my work," she said. "I appreciate every little bit!"
Writing on Facebook, Bjork described the nine-track album as "a complete heartbreak album" with an "emotional chronology" to it.
"I was worried it would be too self indulgent," said the star, who later realised the songs "could be a help, a crutch to others and prove how biological this process is: The wound and the healing of the wound, psychologically and physically".
She added: "It has a stubborn clock attached to it."
Bjork's fast turnaround echoes that of Madonna, who raced to get tracks from her Rebel Heart album onto iTunes over Christmas after early demos and unfinished mixes appeared online.
"[We were] trying to pull down as many leaks as we could and... it was just unstoppable," he said.
"So, Madonna was pretty adamant that we should go immediately, that we should put out as much of the finished music as we could. And there was a lot of talk about the many reasons why it didn't make sense...
"But she was adamant that she didn't want people to think those were the finished tracks.
"And she was devastated. I mean, devastated and sickened that someone would do this to her and not allow her the chance to share the finished product with people."
Other artists have taken extreme measures to stop their albums leaking.
Beyonce took the world by surprise when she released her self-titled fifth album on iTunes overnight in 2013, complete with 17 music videos.
To keep the process under wraps, the record had been codenamed "Lily" and staff at her record label, Columbia, were only told of its existence the day before it was released.
Related Internet Links
The BBC is not responsible for the content of external sites.