Wolf Hall: Critics hail TV debut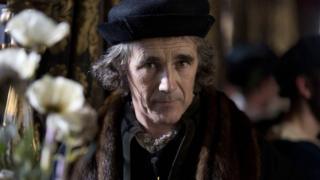 Critics have called the BBC adaptation of Hilary Mantel's Booker-winning novels "close to perfect television".
The six-part adaptation combines both Wolf Hall and Bring Up The Bodies.
Experts were almost unanimous in their view the hotly anticipated BBC Two series was "event television" of the highest calibre.
There was praise for leading cast members, particularly Jonathan Pryce as Cardinal Wolsley and Mark Rylance as protagonist Thomas Cromwell.
"This is event television, sumptuous, intelligent, and serious, meticulous in detail but not humourless or po-face," wrote Sam Wollaston in the Guardian.
Three Card Trick, the first of six one-hour episodes, drew an average audience of 3.9 million, though it was easily eclipsed by ITV's National Television Awards.
Pryce was described as "marvellously humane" and "smoothly acidic", while Damian Lewis - as Henry VIII - was admired for his "heaps of kingly swagger" and "fearsome" portrayal of "a man with no doubt about his divine right to rule".
But the highest praise was reserved for Rylance, as the enigmatic Cromwell - who goes from blacksmith's son to the king's right-hand man.
"For those not blessed enough to have caught Mark Rylance on stage - he's been absent from British theatre since 2013 - this was a rare(ish) chance to catch one of Britain's finest actors on the screen," wrote Will Dean in the Independent.
"Mark Rylance's eyes glistening with sadness and acuity produce a Bafta-winning performance by themselves," wrote The Times's Andrew Billen.
Wollaston echoed that "behind the steel the sadness in his eyes is almost unbearable to watch".
There was praise too for the studious attention to period detail, though some complained the decision to shoot by authentic candlelight meant it was often difficult to see what was going on.
"Some crucial scenes were lit by guttering logs in the hearth, or bedside candles," noted Christopher Stevens in the Mail.
"The only light in Norfolk's hall came from a brazier. It was enough to make you shout: 'For pity's sake, forget about the authenticity - switch a flipping light on!'"
But the critics' overall surmise was that Peter Straughan had faithfully and lucidly adapted the two weighty novels, condensing 1,104 pages into six hours of television.
"This account, directed by Peter Kominsky, feels as real and as visceral as if the wolves of Henry's court were panting down our necks," wrote Billen.
"As a means of setting the scene, drawing us deep into the Tudor world and presenting us with a winningly ambiguous central character, it's hard to see how this one could have been done much better," agreed James Walton, in his five-star Telegraph review.
Mantel, who is currently writing the third part of the trilogy - The Mirror and the Light - has given the television adaptation, made in conjunction with US broadcaster PBS, her blessing.
"It's illuminating, exciting, yet also curious, to see how my imagination matched theirs," she said, following a preview screening in December.
The Sunday Mirror's Kevin O'Sullivan told BBC Radio 4's Today that Wolf Hall was "a masterpiece" with the markings of "an all-time classic".
"It's close to perfect television," he concluded. "I can't recommend it highly enough."