British Museum to showcase art from indigenous Australia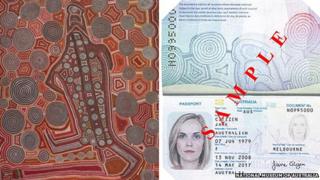 A giant work of Aboriginal art that appears on Australian passports will be coming to London as part of a new exhibition at the British Museum.
Indigenous Australia: enduring civilisation, which opens in April, is the first in the UK devoted to the history and culture of both Aboriginal peoples and Torres Strait Islanders that extends back 60,000 years.
"This is an attempt to tell this extraordinary story - the oldest human story - from a new point of view," said British Museum director Neil MacGregor.
The exhibition will include objects that date from Captain Cook's landing on the east coast of Australia in 1770 as well as present day works of art.
The artwork Yumari (1981), by Uta Uta Tjangala (c. 1926-1990), which measures more than 2.2 by 3.6 metres, is normally on display at the National Museum of Australia in Canberra.
Tjangala was one of the artists who began the translation of traditions of sand sculptures and body painting onto canvas in the early 1970s.
A design from his acrylic on canvas work forms a watermark on current Australian passports.
"Many Australians don't know how close they are to this painting," said the show's curator Gaye Sculthorpe. "It's so exciting that we can bring this masterpiece to London."
Other objects in the exhibition include a shield believed to have been collected after Captain Cook encountered indigenous people in Botany Bay in 1770.
More contemporary items include an Aboriginal protest placard from 1972 and artist Vincent Namatjira's painting of James Cook from 2014.
Another exhibit gives some insight into the first Australian cricket team to visit England in 1868.
"Many people don't know that the first Australian cricket team was an all-aboriginal team," Dr Sculthorpe said. "They came here to play games of cricket for about eight months.
"Most were from the state of Victoria. Before and after the cricket game they displayed their traditional skills in dodging weapons and throwing spears."
The item, a wooden club used in the display by Australian team member Jungunjinanuke, normally resides at the MCC Museum at Lord's.
"Jungunjinanuke so impressed the crowd at dodging the balls that they lifted him on their shoulders and carried him into the dressing room," Dr Sculthorpe added.
Indigenous Australia: enduring civilisation is at the British Museum 23 April - 2 August.