Keeley Hawes hails 'change' in roles for older women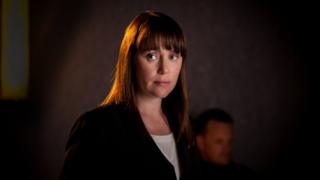 Ashes to Ashes star Keeley Hawes has said she believes there has never been a better time to be an older actress.
The 38-year-old told Stella magazine: "I think that you only have to look at our TV screens at the moment to see maybe there is a change happening".
She pointed out Olivia Colman in Broadchurch, Maggie Gyllenhaal in The Honourable Woman and Gillian Anderson in The Fall.
"These aren't 20-year-olds. These are women with a bit of life experience."
'It is frustrating'
Many actresses have complained about the lack of roles for older women but Hawes, who has also starred in Spooks and Upstairs, Downstairs, said that is not something she has experienced.
"I am a feminist, but I can't bitch about something that I haven't directly experienced. Of course, there are a lot of window-dressing roles and you make the best of what you can out of that."
"You are not going to turn work down when you have a family, when you have bills to pay, and you have to work.
"It would be all well and good to say, 'I'm not going to work unless it's some big meaty part,' but you would sit there for ever. You would be down the dole office."
But she admitted that she was frustrated by the reaction to some of her roles - such as Detective Inspector Lindsay Denton in the critically acclaimed Line of Duty.
"It does make you slightly want to scream when you do [a role] like that and people say, 'Oh, that's amazing. Oh, women can do that?' Like it's some great surprise. Because why couldn't we? It is frustrating."