SAG awards: Debbie Reynolds says 'I ain't down yet'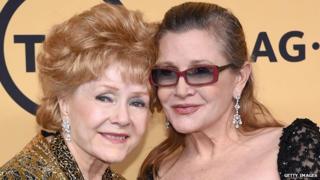 Hollywood veteran Debbie Reynolds has been given a lifetime achievement prize at the Screen Actors Guild (SAG) awards.
The Singin' In The Rain star was recognised for her career spanning six decades.
She was given the highest accolade by her daughter, Star Wars actress Carrie Fisher.
Taking to the stage, Fisher joked: "She's been more than a mother to me, not much, but definitely more.
"She's been an unsolicited stylist, interior decorator and marriage counsellor.
"This is an extraordinarily kind, gifted, and funny woman who would give you the shirt off her back if Vivien Leigh hadn't once worn it in Gone With the Wind," Fisher added.
Reynolds was honoured for her achievements as an actor, singer, dancer and for her efforts to preserve film history.
She was also recognised for her humanitarian work, which includes a charity to help fight the stigma of mental illness.
The actress thanked her fans and friends before making a joke about her "wonderful hairdo" in Singin' In The Rain.
"Some of you may not remember this but I had a bun. At the back of my head I had a big bun, an ugly bun.
"I'd warned my daughter Carrie who'd just gotten a part in a picture, Princess Leia in Star Wars and I said 'Carrie be careful of any weird hairdos.'
"So luckily, George gave her two buns. Thank you, George," Reynolds joked.
Reynolds started her career in 1948 after being spotted at a beauty pageant aged 16 years old.
Her screen debut came when she starred alongside Fred Astaire in the 1950 musical Three Little Words. Reynolds went on to have her big break in the 1952 classic Singin' in the Rain, with Gene Kelly.
Reynolds earned a best actress Oscar nomination for the 1964 musical The Unsinkable Molly Brown, starring alongside the late Harve Presnell, and a Tony Award nomination for the 1973 Broadway revival of musical Irene.
Her most recent role was as late pianist Liberace's mother in the 2013 biopic Behind the Candelabra.
The 82-year-old told the star-studded audience in Los Angeles that Singin' in the Rain was her favourite film, but then later also called The Unsinkable Molly Brown her favourite.
"In that movie I got to sing ... a song called 'I Ain't Down Yet.' Well, I ain't."