Demis Roussos: A colourful career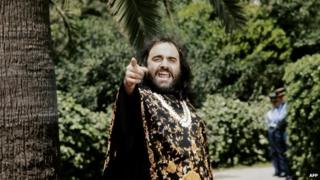 Greek singer Demis Roussos, who has died at the age of 68, was a larger-than-life figure with a career which featured a few unusual twists and turns.
Famed for his voluminous kaftans and soaring voice, he was a fixture on the UK charts in the mid-70s, scoring a number one single with Forever and Ever and global album sales of more than 60 million.
Here are some of his most memorable moments.
What was underneath those kaftans?
Roussos' trademark stage outfits earned him the nickname "the king of the kaftan" - or, more cruelly, "the singing tent".
"Designers from all over the world used to make them for me," he told the Daily Mirror in 2002.
"I had some very dramatic designs. People liked them, I liked them and I felt great in them."
When he decided to sell his collection for charity in the 1990s, it required three auctions - one each in the UK, Germany and France.
Asked whether he wore anything underneath those billowing robes, he once replied: "Of course not. I never did.
"It was fantastic. It was funny. When I was on stage there were always women in the front row who'd try and look up my kaftan."
Package holidays made him famous
"This country was one of my most important territories," Roussos told The Guardian in 1999, speaking about the UK.
"In 1975 I had the award for the top male artist, the award for top single, the award for top album. The Abba and me we took everything. Hahahaha!"
But why was this Greek singer suddenly so popular?
A year earlier he was a household name in the rest of Europe. The BBC even made a documentary - "The Roussos Phenomenon" - pointing out the discrepancy.
The singer's eventual breakthrough came at a time when Greece's Nana Mouskouri also started having hits in the UK.
Roussos thought the timing was all down to the advent of cheap air travel, which was opening up Europe to regular holidaymakers.
"The reason for my big success in England was the Brits - they started wanting to go on holidays, like Spain and Greece," he told The Scotsman.
"My music came right on time. It was romantic Mediterranean music addressed to all the people who wanted to go on holiday. My music was liked by the people."
He made one of rock's first concept albums
Roussos' first musical endeavour was in the 1960s band Aphrodite's Child, a Greek trio which also featured Vangelis Papathanassiou, the composer who later scored Chariots of Fire and Blade Runner.
The band's final release, 666, was a double album based on the Book of Revelation.
Roussos' excitable, operatic wail lends the music an escalating sense of panic, while the extended instrumentals and improvisations presage the prog rock movement.
Not without reason is it viewed as one rock's first concept albums.
After Aphrodite's Child disbanded, Roussos continued to record with Vangelis, even during his successful easy listening years.
Their most successful collaboration was Race to the End - a vocal adaption of the theme to Chariots of Fire.
He spent half a million dollars trying to break America
Roussos sold 30 million albums in Europe in the mid-70s, rivalling The Beatles in several countries.
His success earned him a mansion outside Paris, a private jet and an estate in the south of France - but he wanted something more: to break the US.
So, in 1978, he bank-rolled a promotional trip to North America to the tune of $500,000 - a cool $1.8m (£1.2m) in 2014 terms.
With a billboard on Sunset Boulevard and an exhausting run of TV appearances, he set about his conquest.
"If I succeed," he told Canada's Courier and Mail, "it will be as a pioneer of the European invasion, breaking a few barriers and not appealing only to Greeks or the French or the Italians in America.
"I am not like any other singer in America - I am a new creation."
America, however, remained largely unmoved. His album, That Once In A Lifetime, spent 11 weeks on the Billboard chart, but never climbed higher than 47.
He was held hostage for five days
On 14 June, 1985, Roussos boarded TWA Flight 847 from Athens to Rome - and found himself at the mercy of Lebanese militant group Hezbollah.
Two hijackers, who had smuggled a pistol and grenades through airport security, held the passengers at gunpoint, demanding the release of 17 members of Hezbollah and the Iraqi Islamic Daawa Party.
The plane was diverted to Beirut, then Algiers, and 23-year-old US Navy Petty Officer Robert Dean Stethem was killed.
Roussos spent five days - including his 39th birthday - in captivity, before being released in Beirut (another 40 or so passengers, mainly from the US, endured a further two weeks on the plane).
Speaking at a press conference after his release, the singer said he had been "treated quite well".
"They gave me a birthday cake and they gave me a guitar, to sing," he said. "They have been very polite and very nice with us."
Over the years, some papers said he had serenaded the hijackers. Others claimed he had pledged allegiance to Hezbollah.
Roussos, who rarely spoke about the incident, admitted he was riled by the exaggerations in an interview with Australia's Daily Telegraph in 2006.
"It is not every day that a pop superstar gets involved with terrorism as a victim, so the press takes advantage of that to say things they think are funny.
''I would like to see the journalist [who first reported the claim] in front of gunpoint like I was. Believe me, if he was there he would be so scared he wouldn't care about writing such stupidities like that."
The experience changed his life, and Roussos spent years promoting peace through music.
"Musicians are like a preacher, a teacher, an actor," he said. "You are the mediator who can transfer the energy of beautiful music to the others.''
He wrote a diet book
Roussos was widely mocked for his portly stature at the height of his fame, but insisted: "I was not offended. I had a lot of fun with it and I made a lot of money out of it".
But by the early 1980s he felt his weight had become a distraction.
"It was becoming more important than my singing," he said, and went to California - where he was an unknown - to shed 50 kg in 10 months.
He later co-wrote a diet book, A Question Of Weight, which contained recipes, weight loss diaries and a frank account of his struggles with depression.
Roussos also explained how, before his weight loss, he used to run eating contests.
"I organised two competitions," he wrote, "one being the one who could eat pasta the quickest, and the other being who could eat more pasta than I."
"Of course, I rarely lost."