British horseracing tale wows Sundance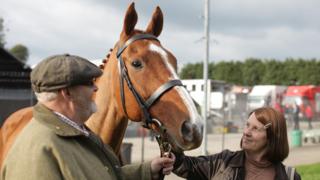 A racing thoroughbred brought up on a south Wales allotment and described as the British answer to Seabiscuit has become the star of a docudrama entitled Dark Horse: The Incredible True Story of Dream Alliance.
Dream Alliance won the Welsh National and the Perth Cup, competed in the Grand National and became a symbol of hope to an entire ex-mining community struggling through tough economic times.
Louise Osmond, director of the film about his life - which had its world premiere at the prestigious Sundance Film Festival in Utah last week - believes the themes embodied in the horse's story will appeal to both fans and non-fans of racing.
"The story of Dream Alliance is one of those ultimate tales," he says.
"It's life-affirming, funny, with a great dramatic sweep to the journey. It's also part Billy Elliot, The Full Monty, underdog-makes-good themed, and part Rocky - with a horse. I had to make it."
Osmond, who previously directed the Bafta-nominated TV documentary Richard III: The King in the Car Park, became interested in Dream Alliance's origins after a visit to the Boxing Day Races in 2012 with producer Judith Dawson.
The thoroughbred stallion, she discovered, belonged to a syndicate in the village of Cefn Fforest near Caerphilly, who all paid £10 a week towards his upkeep and costs.
Dream's main owner, Jan Vokes, was a barmaid who had left school at the age of 15. She and her husband Brian had only had experience of breeding birds and whippets before entering the elite world of horseracing.
"I suppose, just as with the story of Seabiscuit, who was raised during the Great Depression, this resonated with a local community that has seen pretty hard times," says Osmond.
"It's so mad and improbable and ambitious to try to raise a horse on an allotment with slag heaps in the background.
"Jan Vokes, however, is the kind of person whom I discovered never gives up, who says 'no one is going to tell me what my limits are.' And she took on the sport of kings after deciding she wanted to have a go.
"Racing is a very moneyed environment. You only have to turn up to Cheltenham racecourse to see that most of the population could never afford it."
Osmond explains: "Jan bought a thoroughbred mare for £300, who was possibly the slowest race horse in Wales at the time, and paired her with an ageing stallion, and raised the foal on their vegetable patch.
"Then she badgered the village until a syndicate of them agreed to take on Dream Alliance's costs for a tenner a week. This group of mates take on the elite of that closed world and breed a champion."
Community spirit
Osmond said the horse was responsible for bringing the whole village together.
"When we went down there and met them, you really started to realise how much it had meant to all of the community.
"It wasn't really about the racing or the winning at all. It was like the light bulb that went on and lit up the whole village, breathing life back into a place where unemployment is at one of the highest levels in Britain.
"If Dream was racing, the whole community would turn out to support him and watch in the local bar. It's that sense of one of your own, out there on the big stage, getting to Aintree.
"They were so proud. These were the elements that felt absolutely magical to me."
At the point of shooting in 2013, the only material documenting Dream Alliance's story - apart from any races that were televised - were some home movie fragments, photographs and newspaper cuttings.
Osmond says another problem was "a central character who doesn't speak. We knew we needed to dramatise the documentary at various points, so we decided to let Dream play himself - and he proved the perfect gentleman.
"We also asked the villagers to help us recreate those days when Dream was competing and they couldn't have been kinder or more helpful. No professional extras were used in making Dark Horse, human or animal."
'Crowd pleaser'
The director believes competing at the USA's largest independent film festival, Sundance, where Dark Horse was one of two Welsh-funded films being screened, "gives people who live thousands of miles away a taste of what life is like in the Valleys."
After its world premiere in Park City, itself a former mining town, the Hollywood Reporter described it as a "crowd pleaser". The film picked up an audience award in the festival's world documentary category and will be released in the UK later this year.
"This isn't some miraculous rags-to-riches tale," says Osmond. "All the syndicate are still doing the same jobs.
"They're not exactly materially richer because of their involvement in the world of horseracing. But richer in every other way? I think so."
Dream Alliance now lives in comfortable retirement in the West Country. But the village are planning to raise another racehorse and Jan Vokes now wants to win the Cheltenham Gold Cup.
Osmond believes they can do it again, while acknowledging the foal who was born in such ordinary circumstances is in a breed of his own.
"Dream is a handsome working-class boy," she says, "one that's done good. He will look straight at you and into your eyes, as if he understands everything you want.
"Most horses in that world are so skittish, so highly-strung and delicate that it's difficult to go near them. But Dream is laid-back. Basically, he's a dude."
Dark Horse: The Incredible True Story of Dream Alliance will be released in the UK on 17 April.